Now ISIS Clamps down on Mothers Having 'Un-Islamic' Caesarean Births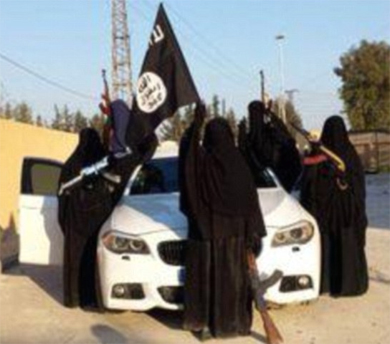 Jihadi brides like these, posing with a BMW in Syria, won't be allowed a Caesarean operation if they need one to give birth unless they can afford 15,000 Syrian pounds - two months salary for the average worker
Arab World
Now ISIS Clamps down on Mothers Having 'Un-Islamic' Caesarean Births
Official: Airstrikes Kill 150 ISIS Militants in Mosul
'Decisive Storm' To Save Yemen from Iran's Hegemony
ISIS's $2b Budget Helps It Recruit Teenagers
Iraqi Shiite cleric calls for unity after militia pullout
Hezbollah 'operating in Yemen' with Houthis: Saudi diplomat
Imams in Riyadh bless anti-Houthi campaign
Several Militants Killed, Injured in Syrian Army Operations in Homs Province
Iraqi Forces Kill Several ISIL Terrorists in Southern Parts of Baiji
Saudi U.N. envoy: ISIS, Al Qaeda taint Islam's image
Kurdish Yezidi politician urges UN for help against ISIS
Egyptian drops lawsuit to declare Hamas 'terrorist group'
Africa
Rebels Told To 'Kill Wives' As Troops Take Boko Haram HQ
Death Toll from Somalia Hotel Attack Rises To 15, Fighting Still Raging
Nigeria Election Becomes a Referendum on Security
Omar Bashir thanks king for saving Yemen
Siege of gunmen in Somali hotel enters 2nd day: Officials
Pakistan
15 Militants Killed In Khyber Agency in a Clash with Security Forces
Ahle Hadith Demonstrations back Saudi Arabia: Hafiz Saeed
Sectarian Polarisation amid Air Strikes on Yemen
Jamaat-i-Islami blames US for Gulf situation
'The Rhetoric about Madrasas Needs To Be Examined'
At UN, Pakistan urges action to end violence against religious, ethnic minorities in Mideast
Pakistan must join Saudi alliance: JUI-F
India
Attacks on Minority Religious Places Sullying India Image: NHRC Chief
Popular Front of India Denies Role in Terror Attacks
South Asia
Taliban Execute Six of Their Own Fighters in Nooristan
RAB Will Prevent Terrorism and Militancy, Says Its Chief
Taliban video shows former US base captured in Farah province
After incendiary sermon, thousands pray for Nasheed and Nazim's freedom
Pakistan integral to peace efforts, says Ghani
Mideast
Iran Senior Cleric: Aggression on Yemen Accelerates Al Saud's Demise
'Decisive Storm' Destroys Houthi Missile Stockpile
Houthi rebels advance despite Saudi-led air strikes
Israel to release tax funds to Palestinians: PM's office
For many Kurds in Turkey, ruling party continues to lure
Riyadh-led campaign will be over in days: Yemen
Lightning strikes pulverize Houthis as warships secure strategic sea passage
Yemeni FM says Iranian forces were aiding Houthis
Turkey: Hesitant in fighting ISIL, decisive in fighting Houthis
Gülenists, PKK attacking Turkey's resources, President Erdoğan says
North America
FBI Disrupts Plot to Kill Scores at Military Base On Behalf Of IS
Obama calls Saudi king on 'collective Yemen goal'
Europe
British Imams Launch Anti-ISIS Online Magazine
France Unveils UN Fund for ISIS Victims
UN reports focus on civilian suffering in Syria and beyond
France in fresh UN push over Palestine
U.N. holds Libya arms embargo in place
Southeast Asia
New $2.9M Mosque Inaugurated in Phnom Penh, Cambodia
Give PM Time on Hudud, Minister Tells Malaysians
Indonesia Prepares to Transfer Philippines Drug Convict for Execution
Snapshot of Malaysia after Hudud: A nation divided
Compiled by New Age Islam News Bureau
---------
Arab World
Now ISIS Clamps down on Mothers Having 'Un-Islamic' Caesarean Births
28 March, 2015
Islamic State is clamping down on Caesarean operations in the latest attack on what it perceives to be decadent Western practices.
Doctors working for ISIS have been ordered to charge 15,000 Syrian pounds for a Caesarean childbirth operation, the equivalent of two months' salary for the average Syrian worker.
Under the harsh new rules enforced by the terror group, doctors who carry out the operations without charging the fee will now face unspecified punishments.
The Islamic State order stipulates that the new charges are aimed at deterring hospitals from carrying out routine Caesareans.
But the high fees will force women who can't afford the operations to endure painful childbirth.
A written order published in the northern Syrian province of Deir az-Zor states: 'in order to assist the believers from the sons of Islam who are working in the medical corps to support their brothers from the poor and others besides them from the Muslim populace, and with the desire to keep the course of medical work removed from arbitrary whim.'
It adds: 'This is to be considered as tantamount to a written order and all who contravene it will be held accountable in the Dar al-Qaḍa [IS judiciary] with attendant consequence.'
There is growing opposition among Islamic clerics to Western trends in gynaecology developments and in particular to mothers who wish to have a pain-free childbirth sometimes referred to as 'too posh to push'.
One scholar has recently claimed that the rise in Caesarean operations in the Middle East is part of a plot against Muslim mothers.
Sheikh Muhammad ibn Saalih al Uthaymeen has ruled that Muslim mothers shouldn't need any decadent pain-relieving assistance in the delivery of their babies.
In his ruling published on an Islamic website he says: 'I would like to take this opportunity to point out a phenomenon that has been mentioned to us, which is that many obstetricians, male and female, in the hospitals are too keen for birth to take place by surgical means, which is known as a Caesarean.
'I am afraid that this may be a plot against the Muslims, because the more births take place in this manner, the more the skin of the abdomen is weakened and pregnancy becomes more dangerous for the woman, and she becomes unable to get pregnant.'
He adds: 'Some of the people who work in private hospitals have told me that many women come to the hospitals and their specialists tell them that there is no alternative to a Caesarean, then they go to this private hospital and give birth naturally.'
Leaders of the Islamic State have tried to build a modern health service and have appealed to doctors from all over the world to travel to Syria and Iraq to join their medical teams.
Earlier this year the Islamic State announced the opening of the Faculty of Medicine in Raqqa, in northern Syria, where doctors are trained in just three years.
IS took control of Raqqa more than one year ago, to become one of the group's main strongholds in the region, imposing a so-called 'Islamic curriculum' on educational facilities in the city.
Many Western jihadists have based themselves in this part of the region. Last week it was reported that nine British medical students travelled to Syria to work in hospitals in Islamic State-held areas.
Four women and five men entered the country, keeping their plans secret from relatives until shortly before they crossed the border from Turkey.
http://www.dailymail.co.uk/news/article-3014262/ISIS-clamps-women-having-Islamic-Caesarean-births.html#ixzz3VfJOyZPg
---------
Official: Airstrikes Kill 150 ISIS Militants in Mosul
28 March, 2015
ERBIL, Kurdistan Region – The bodies of an estimated 150 ISIS fighters reportedly killed by coalition airstrikes have been transferred to morgues in the militant-held city of Mosul, a Kurdish official has told Rudaw.
Saeed Mamuzni, a Kurdistan Democratic Party official worked in Mosul until fleeing to Duhok, said on Thursday the deaths resulted from a wave of bombings carried out in the towns of Kaske Kask, Kalak, Khorbasad and in Mosul's Arabi neighbourhood.
"Due to coalition airstrikes around Mosul over the past two days nearly 150 ISIS militants have been killed and the bodies were all transferred for Mosul morgues," said Mamuzini.
He added: "Mosul inhabitants have started buying tents and renting houses outside the city in fear of the battle for Mosul. They want to keep themselves away from clashes in the city."
US-led coalition airstrikes have been bombarding ISIS arsenals and positions in Syria and Iraq ahead of an impending attack on Mosul, Iraq's second largest city.
http://rudaw.net/english/kurdistan/260320151
---------
'Decisive Storm' to save Yemen from Iran's hegemony
28 March, 2015
SAUDI Arabia-led Operation "Decisive Storm" will help save Yemen from Iran's hegemony, President Abd-Rabbu Mansour Hadi has said.
The military operation was launched early Thursday against Houthi militants in response to an appeal from the legitimate Hadi government.
In an exclusive interview with Okaz/Saudi Gazette at Al-Maasheeq Palace in Aden, Hadi admitted that the Houthis' coup virtually resulted in dismembering the country's capital Sanaa, and made the country's coffers empty.
While blaming a large number of armed personnel for disloyalty and treachery, Hadi urged all Yemenis to stand united and rally behind the legitimate government in defeating those working to weaken the country's security, stability and unity.
Hadi said the Yemeni people won't accept Iran's machinations to destabilize the country. "I am fully confident that the Iranian Twelvers' experiment that was agreed upon between Houthis and those supporting them won't be acceptable to the people of Yemen.
On the other hand, the wise Yemeni people believe in maintaining the country's security, stability and unity, and thereby they agreed to the Gulf Initiative and its executive mechanism," he said while hoping that the people will reject those advocating sectarianism, regionalism and factionalism.
Hadi is of the firm view that the Gulf Initiative and its executive mechanism is the best way for Yemen to get out of the current crisis and restore peace and normalcy in the country.
He lamented at the turn of events after turning a peaceful revolution led by youths to a conflict involving various power centers and a split in the armed forces into various factions, each with a military arsenal with the capability to destroy the capital and inflicting colossal damage to the country as a whole.
Hadi expressed his gratitude and appreciation to the Gulf states, especially Saudi Arabia, for supporting the Yemeni government and people on political, economical, security and other fronts, especially in the current critical juncture through which the country is passing.
"We are profoundly thankful to the quick positive response from the Gulf Cooperation Council (GCC) states for our appeal to make a military intervention to save the legitimate government of Yemen and prevent the aggression of Houthi militias.
I also urged the United Nations Security Council for a 'binding decision' to halt the march of Houthis to Aden after making it the temporary capital of the government."
Hadi praised Custodian of the Two Holy Mosques King Salman for the Kingdom's unwavering support to its Yemeni brothers taking into account considerations such as brotherhood, neighborliness, religious responsibility and broader regional interests.
"There is nothing unusual in the position taken by the Kingdom in lending a helping hand to the Yemeni brothers, and this could be seen in the readiness to host the conference of all Yemeni parties involved in the conflict in Riyadh," he said while stressing that the conference will be based on the Gulf Initiative, decisions of the UN Security Council and the Yemeni Constitution.
Hadi pinned great hope that all Yemeni parties and forces, who have shown their keenness to safeguard the nation's security and stability as well as to restore peace in the country, would support the initiative because Yemen has suffered a lot and is desperately in need of peace and stability.
"It is high time that every Yemeni be aware of his national and historic responsibility toward the people who are eager to see the prevalence of peaceful coexistence and harmonious relations among all segments of society within the framework of a single nation that embraces all of them on the platform of justice and equality and real partnership in power and prosperity, away from discrimination and deprivation.
He said the Kingdom always stood by Yemen in supporting it on different occasions. "King Salman's positive response to hold the conference on Yemen at the GCC headquarters is a continuation of the policy of his predecessors, especially King Abdullah who hosted a meeting of different Yemeni parties during the 2011 crisis and the subsequent signing of the Gulf Initiative to solve the crisis.
This shows the keenness of the Kingdom to achieve Yemeni unity and cohesiveness," he said while thanking the international community and global organizations for their political and financial support to Yemen.
Hadi blamed Houthis for the current political crisis in Yemen. "Houthis carried out a coup by taking control of Sanaa and some other regions through the language of arms and not through the language of dialogue. "The people of Yemen have chosen the language of dialogue as the ideal way forward to build the nation and work out its future roadmap."
On his flight to Aden, Hadi said: "I left the capital when the armed Houthi militia took control of the capital and laid a siege to my residence.
It was virtually a siege on all Yemenis and thus carrying out a military coup, disavowing all the efforts to have a political reconciliation with the parties concerned," he said adding: "The Yemeni people's rejection of the coup, and their standing by the legitimate government to prevent the country sliding into a civil war are the major factors that encouraged me to continue discharging the constitutional powers by saving the ship through the Gulf Initiative, its executive mechanism and the outcome of the National Dialogue that calls for the endorsement of the new constitution and holding presidential and parliamentary elections as part of a time-bound plan."
Hadi said his departure to Aden and making it the temporary capital came as a step to defend the rights and fulfill the obligations of legal organizations and establishments and completing the transitional phase in line with the Gulf Initiative to end the political crisis in the country.
He asserted that his continuation as president is not in any way clinging to power but discharging his constitutional responsibility in safeguarding Yemen's unity and working to end the division and disunity, eschewing violence and halting calls for sectarianism.
"Our arrival in Aden was not a decision of my own choice but rather the culmination of a number of factors and situations.
We are forced to declare Aden as the temporary capital after Sanaa came under fire from the Houthi militia following the coup carried out by them and the subsequent invasion of the ministries and other government institutions," he said while noting that it was very difficult for the legitimate government to function under such a dangerous situation.
"Sanaa has become dismembered among the conflicting parties and the ministries are under occupation, infrastructure is under ruin, state coffers are empty, security is shattered, and above all the army's loyalty is not to the state but to some individuals."
He also pinned great hope on the Yemeni people that they would embark on a peaceful way and will be successful in ending the current crisis without bloodshed.
Referring to the decision taken last year to transform Yemen into a six-region federation as part of its political transition, Hadi said: "Out of six regions, five have announced their readiness to go ahead with the decision of the National Dialogue and stick fast to implementing it."
He also hinted at making alterations in the draft constitution for the sake of the country's unity and integrity.
http://www.saudigazette.com.sa/index.cfm?method=home.regcon&contentid=20150328238447
----------
ISIS's $2B budget helps it recruit teenagers
How ISIS's $2B budget helps it recruit Western teenagers to terrorism
By Aamer Anwar
CNN)A decade ago al Qaeda would meet potential recruits face to face; now ISIS engages in one-to-one dialogue while sat 2,000 miles away.
With what it says is a $2 billion budget, the group produces slick videos in which sexy bearded jihadists are paraded as potential husbands and burka-clad jihadi brides carry Kalashnikovs while extolling the virtues of the utopian Caliphate and a "guaranteed ticket to paradise."
Aqsa Mahmood, 19, left home for university one morning in November 2013 never to return. Instead of going to classes, she travelled to Syria; last February she married a jihadi fighter, and since then she has become a notorious poster girl for ISIS.
What is so unusual about Aqsa is that she was given every chance in life: privately educated and offered freedoms that many other Muslim girls would envy.
And while most were quick to condemn the Mahmood family for missing the signs of radicalization, 18 months on they remain none the wiser as to what prompted her to run away -- Aqsa's parents had actually warned their children of the need to avoid extremist websites.
Following the terror attacks in London on July 7, 2005, the then Prime Minister Tony Blair insisted those responsible were motivated by an "evil ideology," a "perversion of Islam that promoted absurd grievances," and that they had nothing to do with the war in Iraq, but he was wrong: the Iraq "adventure" opened the gates of hell, and today young Muslims are being seduced by an updated narrative.
For over a decade mosque leaders have been asked to eradicate extremism but they are no more than glorified gatekeepers whose lives bear little relevance to those of most modern day Muslims. The need to tackle radical preachers has crushed political debate and created a dangerous vacuum which is now being filled outside of mosques.
Every new atrocity is invariably followed by useless public statements of sorrow from so-called "Muslim leaders," further increasing the anger felt by the younger community -- successfully drawing young Muslims away from the path of violence takes more than routine declarations that "Islam is a religion of peace."
It is easy enough to dismiss the words of wannabe radical jihadists as little more than the posturing of nihilistic adolescents, but the steady stream of recruits to ISIS cannot be ignored.
Several years ago al Qaeda recruitment propaganda included videos of men with long beards ranting in Arabic in front of a black flag, followed by grainy footage of a truck blowing up as it drove towards Americans. It wasn't particularly effective as a recruitment tool, but then they only needed a handful of recruits to change our society for ever.
Today ISIS runs a powerful, slick, modern social media machine distributing messages daily across many different platforms.
Their propaganda contains the same violent, distorted interpretation of Islam but it is more advanced than anything al Qaeda ever produced, and the authorities cannot police it or compete with it.
For many, the greatest shock has been young girls like Aqsa wanting to leave behind their Western comforts and freedoms to join ISIS, but why should it be a surprise that young Muslim women are as angry as their male counterparts?
There is no single road map to recruitment, but for a teenager becoming a Jihadi bride or fighter is much more appealing than becoming a suicide bomber, however distorted that logic may seem to us.
Full of adolescent frustration, young Muslims are being lured into a romanticized and glamorous world which bears no relation to the misery actually inflicted by ISIS.
It doesn't matter if the narrative is false, because ISIS is winning the propaganda war: the inability of the mainstream to deal with the anger felt by the Muslim community provides cannon fodder for the hatemongers.
ISIS is left unchallenged on double standards of foreign policy, Israel, rendition, torture, or Assad's reign, which has left 200,000 dead, because there is nothing that Western governments can say without being accused of duplicity and double standards.
Aqsa's family describe her as a "bedroom radical" of the type the British Government has been desperate to combat by trying to shut down websites and social media.
Yet last year the International Centre for the Study of Radicalisation and Political Violence found "little evidence to support the contention that the internet plays a dominant role in the process of radicalization." A concentration on social media avoids the real world social relationships which help create terrorists.
Many young Muslim people asserting their identity in an Islamophobic society detest the hypocrisy of their elders, whose cultural and sectarian traditions they consider irrelevant to modern day Islam.
While mosques pay lip service to the "brotherhood of man" they exclude 50% of the community by discouraging women from attending, and anyone below the age of fifty is told to shut up and show respect. As for racial unity, it is at best tokenistic and at worst institutionally racist.
Young British Muslims live a schizophrenic existence, stuck between their immigrant parents' cultural identity and that of the West which doesn't want them. Extremists exploit this identity crisis by offering them a new life.
Most parents wouldn't know if their teenagers were drinking or having sex, let alone being groomed by ISIS; many young Muslims -- already adept at living a double life -- will hide their digital footprint in exactly the same way.
In many cases, there is tremendous relief for parents when a teenager comes home one day and announces she is becoming religious, rather than saying she is pregnant or on drugs, but it also gives rise to a false sense of security.
The failure to deal with the grooming of underage girls by ISIS is a child protection issue: when a paedophile makes contact with a child, he builds up trust over several months, convincing the child not discuss anything with her parents. When the time is right he convinces the child to leave her family and join him. The process is identical in radicalization by ISIS.
Thousands of young people across Europe are at risk of being trafficked to Syria for marriage and holy war. In any other situation, they would be regarded as children -- yet pin the ISIS label on them and the knee jerk reaction is one of condemnation.
The exploitation of the politics of fear combined with tougher terror laws has created a climate of fear for Muslims who are portrayed as threatening a "civilized" way of life.
We are quick to forget recent history: the disastrous treatment of the Catholic community in Northern Ireland produced a sense of burning injustice which acted as a recruiting sergeant for the IRA for more than four decades. Today, Muslims are being dealt with in the same way.
http://edition.cnn.com/2015/03/27/opinions/aamer-isis-recruiting-western-teenagers/
---------
Iraqi Shiite cleric calls for unity after militia pullout
28 March, 2015
BAGHDAD — Iraq's most revered Shiite cleric on Friday called for unity among the country's forces battling the Islamic State group after most of the Iran-backed Shiite militias pulled out of the offensive in the militant-held city of Tikrit in protest over US airstrikes there.
Grand Ayatollah Ali al-Sistani's appeal came a day after the militias, which had been instrumental so far in the operation to recapture Saddam Hussein's hometown, announced their boycott of the Tikrit offensive.
The US got involved in the operation and started providing airstrikes on Wednesday in support of the mission at the request of Iraq's government.
Al-Sistani said that coordination between the military, Shiite militias and tribes is necessary for the success of the operation, according to his representative Ahmed al-Safi in the holy site of Karbala.
Full report at:
http://rudaw.net/english/middleeast/iraq/270320152
---------
Hezbollah 'operating in Yemen' with Houthis: Saudi diplomat
March 28, 2015
Hezbollah, the Lebanese-based Shiite militia, is operating in Yemen on the side of the Houthis with the aid of Iran, a senior Saudi diplomat claimed on Friday.
Saudi Ambassador to the United States Adel Al-Jubeir made the claim in an interview on CNN with Wolf Blitzer. "We have reports that the Iranians are providing weapons, training and advisers to the Houthis. We have reports of Hezbollah operatives being in Yemen."
According to Al-Jubeir, when the Houthis captured Sanaa one of the first things they did was to release captured members of Iran's Revolutionary Guards and Hezbollah.
"This is really a war to defend the legitimate government of Yemen and to protect the Yemeni people from being taken over by a radical militant group that is aligned with Iran and Hezbollah."
Full report at:
http://www.arabnews.com/featured/news/724391
---------
Imams in Riyadh bless anti-Houthi campaign
March 28, 2015
Imams at mosques in Riyadh on Friday welcomed the Saudi-led coalition campaign in Yemen, saying the Houthi rebels had undermined the country's legitimate government and were killing innocent people.
"All Yemeni people denounce and reject these minority rebels, but it seems they want to impose themselves by force with the support of Iran," Sheikh Khalaf Al-Matlaq said in his sermon in Al-Dubbat mosque in Malaz. The Houthis only make up 10 percent of Yemen's population, he said.
Full report at:
http://www.arabnews.com/saudi-arabia/news/724371
---------
Several Militants Killed, Injured in Syrian Army Operations in Homs Province
March 28, 2015
Rebel groups' gathering centers and logistic convoys were targeted by the Syrian soldiers in various parts of the Central province of Homs, proving army's upper hand in fights against militancy.
A long convoy of rebels' vehicles loaded with ammunitions was targeted by the army in Um- Sharshouh, and meantime, army's operations in al- Ghanto in the Eastern countryside of Homs killed and wounded scores of the antigovernment fighters.
Syria has been the scene of insurgency since 2011 when certain western powers and their regional allies voiced loudly that Syrian protests have no diplomatic solution and they started supplying the country's opposition groups with their arms and funds.
Since 2014, specially after victory of President Bashar al-Assad in the country's presidential election in summer, the army has gained upper hand in its anti-terrorism campaign, and has been partly successful in sealing borders with Turkey and Jordan.
http://english.farsnews.com/newstext.aspx?nn=13940107000521
---------
Iraqi Forces Kill Several ISIL Terrorists in Southern Parts of Baiji
March 28, 2015
A military source announced that the Iraqi army, along with populace forces, killed at least 13 members of the ISIL terrorist group and injured too many others in the countryside of Baiji, in Salahuddin province.
"Heavy clashes between the security forces and the ISIL terrorists broke out near the village of al-Mazra'ah, in the Southern countryside of Baiji on Thursday, in which at least 13 terrorists were killed and so many others were injured," the source said.
The ISIL Takfiri terrorists currently control shrinking swathes of Syria and Iraq. They have threatened all communities, including Shiites, Sunnis, Kurds, Christians, Ezadi Kurds and others, as they continue their atrocities in Iraq.
Senior Iraqi officials have blamed Saudi Arabia, Qatar, and some Persian Gulf Arab states for the growing terrorism in their country.
The ISIL has links with Saudi intelligence and is believed to be indirectly supported by the Israeli regime.
http://english.farsnews.com/newstext.aspx?nn=13940107000293
---------
Saudi U.N. envoy: ISIS, Al Qaeda taint Islam's image
28 March 2015
Groups such as the Islamic State of Iraq and Syria (ISIS), Al-Qaeda and Hezbbollah taint the image of Islam, Saudi Arabia's ambassador to the United Nations said on Friday.
Speaking at a United Nations Human Rights Council meeting addressing the rights of minorities in the Middle East Abdallah Al-Mouallimi said that Houthi militias and Hezbollah were forcefully imposing their will.
Islam is a religion of tolerance, he said adding that the oppression of religious minorities is a blatant contradiction of Islam and its teachings.
As to minority right abuses, Al-Mouallimi said fighting terrorism and establishing international justice are basic tenets in the fight against violations.
http://english.alarabiya.net/en/News/middle-east/2015/03/28/Saudi-U-N-envoy-ISIS-Al-Qaeda-taint-Islam-s-image.html
----------
Egyptian drops lawsuit to declare Hamas 'terrorist group'
28 March, 2015
An Egyptian lawyer withdrew on Friday his lawsuit against Hamas, despite achieving a ruling in the case declaring the Palestinian faction a "terrorist group" under Egyptian law.
Samir Sabry had hailed the February verdict against Hamas as "historic" and criticised the government's appeal against it, but on Friday said he would drop the suit so that the verdict would not be "an obstacle to Egypt's reconciliation efforts" between Palestinian factions and Israel.
Sabry's case withdrawal doesn't automatically cancel the verdict, which was based on two separate suits filed by Sabry and another lawyer, Ashraf Said.
The Cairo Appeal Court for Urgent Matters will decide on the matter on Saturday.
Following Sabry's withdrawal, Hamas spokesman Sami Abu Zuhri welcomed the move on his official Facebook account.
Full report at:
http://english.ahram.org.eg/NewsContent/1/64/126232/Egypt/Politics-/Egyptian-drops-lawsuit-to-declare-Hamas-terrorist-.aspx
----------
Kurdish Yezidi politician urges UN for help against ISIS
28 March, 2015
UNITED NATIONS – Vian Dakhil, an Erbil-based Kurdish Yezidi politician, has urged the UN Security Council to better help Kurdish officials and others protect minority religious groups and tackle Islamic State (ISIS) militants in Iraq and Syria.
"We are slaughtered, we are killed, our women are being raped, our girls are being sold, our children are taken to places … we are bought and sold like goods in the market," Dakhil, an Iraqi parliamentarian, told the UN's top body on Friday.
Some 420,000 Yezidis have been displaced in northern Iraq's self-governing Kurdish enclave, she said, while thousands more were scattered across Syria and Turkey by an IS blitzkrieg advance into Iraq last year. Some 3,000 girls are traded in markets for $18 each.
"I also convey to you the greetings and position of the government and the people of Kurdistan region in Iraq in favour of any resolution that helps them serve the purpose of the Iraqi people," she told the UN's top body, during a debate on protecting minorities from ISIS.
The politician, who survived a helicopter crash but broke a leg in August while delivering aid to Yezidis on Mount Sinjar in northern Iraq, has pledged to continue her campaign to save the Yezidi people who are trapped by IS, a sectarian Sunni Muslim militia.
Full report at:
http://rudaw.net/english/kurdistan/270320153
---------
Africa
Rebels told to 'kill wives' as troops take Boko Haram HQ
March 28, 2015
ABUJA: Nigeria's military announced that troops had retaken the town of Gwoza from Boko Haram, from which the group declared their caliphate last year.
Defense spokesman Chris Olukolade told a news conference in the capital, Abuja, that the recapture came after "concerted and well-coordinated land and air operations."
"A lot of arms and ammunition have been recovered and the administrative headquarters (of Boko Haram) completely destroyed," he said.
"A massive cordon and search has commenced to locate any of the fleeing terrorists or hostages in their custody."
Nigerians are due to go to the polls to vote in presidential elections on Saturday.
Earlier this month, residents who fled the town in Borno state told AFP that militants had been massing in Gwoza and killing local people who were unable to flee.
Full report at:
http://www.arabnews.com/world/news/724151
---------
Death toll from Somalia hotel attack rises to 15, fighting still raging
March 28, 2015
The death toll from an attack by Islamist militants on a hotel in the Somali capital rose to at least 15, police said as fighting continued into early Saturday, with loud explosions heard overnight.
"At least 15 people died including Somalia's ambassador to Geneva, and at least 20 others were wounded," Colonel Farah Aden, a senior police officer at the scene, told Reuters. "Those who died include civilians, hotel guards and government soldiers."
http://www.thehindu.com/news/international/death-toll-from-somalia-hotel-attack-rises-to-15-fighting-still-raging/article7043125.ece
---------
Nigeria Election Becomes a Referendum on Security
28 March, 2015
ABUJA, Nigeria—Nigeria's election Saturday is turning out to be not just a contest for the nation's next president, voters say, but a referendum on the state of security in Africa's largest democracy.
As voters brave the threat of attacks on polling stations by the Islamist insurgency Boko Haram, they will be weighing which candidate—President Goodluck Jonathan or his challenger, Muhammadu Buhari—is best able to combat the militant group, and readying themselves for the possibility of religious violence if the election results are disputed.
Boko Haram has spent more than eight months carving out a fiefdom in the country's northeast. Thousands of people have died and more than a million have fled their homes.
Mass abductions of women and children, including some 200 girls taken from a boarding school last April, have put intense pressure on Nigerian politicians and military commanders to halt the group's progress.
Full report at:
http://www.wsj.com/articles/nigerian-military-recaptures-key-boko-haram-town-of-gwoza-1427470356
---------
Omar Bashir thanks king for saving Yemen
March 28, 2015
Sudan's President Omar Bashir said Saudi Arabia took the right decision to strike against Houthis.
"Custodian of the Two Holy Mosques King Salman took the right decision at the right time to launch Decisive Storm to safeguard the security of Yemen, and the unity and stability of the country," Bashir said in a press conference shortly before his departure from Jeddah. He added that Decisive Storm will also ensure the safety of the region especially the safety of the Two Holy Mosques which is of concern to all Muslims.
http://www.arabnews.com/saudi-arabia/news/724366
---------
Siege of gunmen in Somali hotel enters 2nd day: Officials
March 28, 2015
Gunmen from the Somali extremist group al-Shabab, who had taken up positions in a hotel frequented by government officials and dignitaries killing at least nine people, were exchanging fire with government troops more than 12 hours later, officials said today.
After the gunmen's initial attack Friday, government troops managed to take up the first floor of the Maka Al-Mukarramah hotel in the capital Mogadishu. The gunmen were believed to be on the third and fourth floor, Capt. Mohammed Hussein said.
Hussein said the attackers were hurling grenades at the Somali Special Forces. The African Union Mission In Somalia, or AMISOM, posted on Twitter that there were reports of possible hostages.
Full report at:
http://www.thehindu.com/news/international/siege-of-gunmen-in-somali-hotel-enters-2nd-day-officials/article7043160.ece
--------
Pakistan
15 Militants Killed In Khyber Agency in a Clash with Security Forces
28 March, 2015
PESHAWAR: Fifteen militants were killed on Saturday in a clash with security forces in Khyber Agency, the military's public relations wing said.
According to the Inter-Services Public Relations (ISPR), approximately 30-35 militants attacked a security forces check post in Khyber Agency's Tirah Valley, but attack was foiled through "effective retaliation".
Three security personnel sustained injuries in the clash.
Security forces seized 10 bodies of the militants, along with arms and ammunition, the ISPR said. However, this information could not be independently verified as journalists have limited access to the restive agency.
Full report at:
http://www.dawn.com/news/1172440/15-militants-killed-in-khyber-agency
---------
Ahle Hadith Demonstrations back Saudi Arabia: Hafiz Saeed
28 March, 2015
LAHORE: Groups following the Ahle Hadith school of thought on Friday showed solidarity with Saudi Arabia against the threats from insurgents in Yemen.
Jamaat ud Dawa held demonstrations in the federal and provincial capitals and raised slogans in favour of the kingdom.
Speaking to the participants in Lahore, Hafiz Saeed said a nationwide movement would be launched against alleged conspiracies being hatched by Jewish and Christian lobbies against Riyadh.
He also announced convening an all-party conference soon to assemble all political and religious parties on a single platform for framing a joint line of action on feared threats to Saudi Arabia. He urged the Iranian government to become a part of the Muslim world instead of falling prey to the Zionists.
Markazi Jamiat Ahle Hadith chief Senator Sajid Mir left for the kingdom here on Friday to meet Saudi rulers and express support of, what a press release, said Pakistani people in the need of the hour.
http://www.dawn.com/news/1172351/demonstrations-back-saudi-arabia
---------
Sectarian polarisation amid air strikes on Yemen
28 March, 2015
KARACHI: The launch of air strikes by Saudi Arabia against Iranian-allied Houthi forces in Yemen and talk of Pakistan becoming militarily embroiled in the Gulf conflict stoked sectarian polarisation in the city on Friday.
A leading Shia party staged a protest demonstration against the Kingdom of Saudi Arabia as religious leaders representing the Barelvi school of thought termed the attack on Yemen a threat to world peace, while Deobandi clerics threw their weight behind the Arab monarchy.
A large number of people attended a protest demonstration organised by the Majlis-i-Wahdat-i-Muslimeen on Friday in the Kharadar area against the "Saudi-led attacks on Yemen", warning the government that it should stay away from the kingdom's policy that would affect harmony among the Muslims.
Full report at:
http://www.dawn.com/news/1172318/sectarian-polarisation-amid-air-strikes-on-yemen
---------
Jamaat-i-Islami blames US for Gulf situation
28 March, 2015
LAHORE: Jamaat-i-Islami emir Senator Sirajul Haq has expressed concern over the growing confrontation in the Gulf and said the US and the Zionist powers are once again trying to make the Muslim world a battlefield.
In a statement issued here on Friday, he was quoted as saying that Muslims all over the world were ready to lay down their lives for the security of Makkah and Madina.
However, he said there was need for great care and caution besides serious talks.
He cautioned that like the Iran-Iraq war, the US now wanted to trigger a war between Saudi Arabia and Iran to sell its arms and ammunition besides taking over the Muslim world's resources. He said that Pakistan should try to cool down the situation in order to foil the enemy designs.
The situation demanded that the leadership of the Muslim world sat down and resolved their issues through talks and mutual understanding, he added.
http://www.dawn.com/news/1172361/siraj-blames-us-for-gulf-situation
---------
'The Rhetoric about Madrasas Needs To Be Examined'
28 March, 2015
KARACHI: There is a fundamental difference in the understanding of the concept of a university by the West and in our part of the world whereby in the West it is not meant for ideological indoctrination, said Dr Syed Noman ul Haq in his talk at the University of Karachi on Thursday.
He was giving a lecture on the 'Study of the Early Islamic History: Methodology of Research and Teaching in Western Academia' organised by the faculty of social sciences as part of their distinguished lecture series. The talk was, however, more about the comparison of academic institutions in the West with ours and briefly touched upon the problems in periodisation of Islamic history.
Full report at:
http://www.dawn.com/news/1172081/the-rhetoric-about-madressahs-needs-to-be-examined
---------
At UN, Pakistan urges action to end violence against religious, ethnic minorities in Mideast
28 March, 2015
NEW YORK - Pakistan on Friday called for UN Security Council action to end the religiously and ethnically-motivated violence sweeping the Middle East by promoting a global consensus for resolving the challenges confronting Iraq, Syria, Yemen and "most importantly" Palestine.
"Historical and recent experience has demonstrated that the challenges posed by the current chaos in the Middle East will not be overcome by foreign intervention," Pakistan's permanent representative to the UN Ambassador Maleeha Lodhi told the 15-member Council during a high-level debate on victims of attacks and abuses on ethnic or religious grounds in the region, chaired by French Foreign Minister Laurent Fabius. "The sovereignty and the territorial integrity of countries will have to be fully respected," she emphatically stated. "Ultimately, durable peace can be restored through national reconciliation in each affected state, encouraged and promoted with regional and global support." "The current chaos in the Middle East contrasts sharply with its history and ethos," the ambassador said.
The Middle east, she said, is a cradle of major religions and civilisations, replete with examples of what true Islam preaches - love, brotherhood, tolerance and humanity. As such, the Pakistan envoy said that the recent escalation of violence and terrorism in the Middle East was an affront to humanity and all civilised norms. Deeply offensive and unacceptable were attempts by some vested interests to blame Islam as the source of the current chaos. It was clear that disorder and the collapse of State authority across North Africa and the Middle East had turned the Arab Spring into a "brutal winter", she said. The partial or complete breakdown of State authority in Iraq and Syria had allowed the rise of violent groups, such as Daesh, inured by extremist ideologies and radical agendas, she said. "The quest for power by cynical and brutal leaders, wrapped in religious cloaks, is not surprising in the circumstances."
Full report at:
http://www.dailytimes.com.pk/national/28-Mar-2015/at-un-pakistan-urges-action-to-end-violence-against-religious-ethnic-minorities-in-mideast
---------
Pakistan must join Saudi alliance: JUI-F
28 March, 2015
ISLAMABAD: While lending his support to the government to join Saudi alliance against Houthi rebels in Yeman Jamiat Ulema-e-Islam-Fazl chief Fazlur Rahman said on Friday that Pakistan must support Saudi Arabia in its time of trial.
While talking to reporters outside the Parliament House on Friday, he said that Saudi Arabia was Pakistan's cordial and best friend and "we must not hesitate in helping it in its testing time". He said that all stakeholders including political parties, establishment and the Foreign Office should be taken on board on the issue of joining the Saudi alliance. He, however, said that any decision in this regard should be taken through proper channel. He alleged that the US was working on a plan to pitch Sunnis and Shias against each other in the Middle East as part of a great game.
http://www.dailytimes.com.pk/islamabad/28-Mar-2015/pakistan-must-join-saudi-alliance-jui-f
---------
India
Attacks on minority religious places sullying India image: NHRC chief
March 28, 2015
Stating that attacks on religious places of minority communities "sully the image of India" and send "a wrong message" to the international community, National Human Rights Commission (NHRC) chairperson Justice K G Balakrishnan has asked the government to deal with such incidents swiftly and strictly.
Asked about the attacks on churches and the 'ghar wapasi' reconversion campaign of right-wing Hindu organisations, Balakrishnan, a former Chief Justice of India, said: "These should not happen. It sends a wrong message to the international community about our country. People think bad about India, especially since this country has a great track record of maintaining its secular tradition. This was the case even before the word secularism was added to our Constitution. Everyone must feel secure."
"If there is any instance where an Indian feels insecure because he belongs to a particular community or an institution associated with his community is under attack, it will create a wrong impression about India internationally."
Full report at:
http://indianexpress.com/article/india/india-others/attacks-on-minority-religious-places-sullying-india-image-nhrc-chief/99/
--------
Popular Front of India Denies Role in Terror Attacks
TNN | Mar 28, 2015
NEW DELHI: Even as intelligence agencies, on the basis of interrogation of Syed Ismail Afaque Lanka, have learnt that Popular Front of India (PFI) had a role in 2011 Mumbai bombings, 2012 Pune blasts and 2013 Hyderabad Dilsukhnagar attack, the organization denied having any connections with Lanka or the terrorist attacks.
Afaque had told interrogators that he had sent PFI members to buy explosives - ammonium nitrate, gelatine sticks, non-electrical detonators, capacitors etc, which was used to assemble bombs for these blasts. Times of India has exclusive access to interrogation details of Afaque, who was arrested in January this year and stands by its report. Afaque has even told the investigators that he was President of PFI's Bhatkal (Uttara Kanara) district in Karnataka.
PFI's public relation officer Mohammed Arif Ahmed said, "...the allegations levelled against Popular Front of India linking it with the above said bombings and terror activities are complete false, baseless and defamatory'.
He claimed, "PFI is a neo-social movement committed for empowering people for ensuring justice, freedom and security".
http://timesofindia.indiatimes.com/india/Popular-Front-of-India-denies-role-in-terror-attacks/articleshow/46722015.cms
---------
South Asia
Taliban Execute Six of Their Own Fighters in Nooristan
28 March, 2015
Taliban insurgents have beheaded own fighters in eastern Afghanistan.
Hafiz Abdul Qayoum, acting governor of Nooristan province says that Taliban executed six members of their group on Thursday after accusing them of having relationship and spying for the government.
Abdul Qayoum called the incident as a result of the differences within local Taliban groups in Kamdish District.
Taliban spokesman has not commented on the report yet.
This is not the 1st time Taliban are executed by own comrades. A group of Taliban was executed by another group after being accused of failing in the fight against Afghan government also in Nooristan province about a year ago.
Hafiz Abdul Qayoum had said that the group who carried out the execution was around 100 people related to the Lashkar-i-Taiba insurgent group of Pakistan.
He had warned that the group could become dangerous.
Nooristan province is one of the restive parts of Afghanistan located in the east. It shares a long border with Pakistan.
http://www.khaama.com/taliban-execute-own-fighters-in-nooristan-3069
---------
RAB will prevent terrorism and militancy, says its chief
28 March, 2015
Blaming vested quarters for trying to defame the Rapid Action Battalion, its chief yesterday said in the future they would work relentlessly to prevent militancy and criminal activities.
"RAB has achieved trust and appraisal of the ordinary people because of efficiently combating terrorism, militancy, robbery, abduction... On the other hand, RAB has been working actively to maintain peace in the country," recently-appointed Director General Benazir Ahmed said during its 11th anniversary programme in the city.
Asked whether the force was facing an image crisis, he said: "There are some groups engaged in findings politics in everything to stigmatise the force. It is not our problem.
"Many ordinary people were killed in petrol bomb attacks and violent attacks in the last two months [of non-stop blockade and hartals]. The situation has now improved much...vehicles are operating during the nights too."
Full report at:
http://www.dhakatribune.com/bangladesh/2015/mar/27/rab-will-prevent-terrorism-and-militancy-says-its-chief#sthash.WgkCuKUI.dpuf
---------
Taliban video shows former US base captured in Farah province
28 March, 2015
The Taliban militants group in Afghanistan has released a video which purportedly shows the group's militants have captured a military base in western Farah province.
The military base was reportedly captured in Bakwa district and was previously in control of the NATO-led coalition security forces.
The 16-minute video was recently released by the group's media wing – Al-Emara Jihadi studio which also shows one of the group's leaders making a lengthy speech in Pashto and the white Taliban flag hoisted inside the base.
According to reports the base was previously operated by the US forces to tackle the local trade in heroin in Farah province.
Full report at:
http://www.khaama.com/taliban-video-shows-former-us-base-captured-in-farah-province-9958
---------
After incendiary sermon, thousands pray for Nasheed and Nazim's freedom
By Zaheena Rasheed | March 28, 2015
Following an incendiary Friday sermon warning unjust judges of hellfire, thousands gathered outside the Islamic Center in Malé at noon and prayed for former President Mohamed Nasheed and former Defence Minister Mohamed Nazim's freedom.
Dozens of police officers attempted to disperse the congregation before the prayer began, but later watched on until the prayer was completed. The police then cordoned off the area.
The sermon, issued by the Ministry of Islamic Affairs, quoted several verses from the Qur'an and hadiths from the Prophet Mohamed's Sunnah on the importance of delivering just verdicts and the wickedness of false testimony.
The unusually incendiary sermon comes in the wake of an 11-year jail term for Nazim on charges of smuggling weapons, and a 13-year jail term for Nasheed on charges of terrorism over the military detention of a Criminal Court judge.
Full report at:
http://minivannews.com/politics/after-incendiary-sermon-thousands-pray-for-nasheed-and-nazims-freedom-95030#sthash.5d3FVluX.dpuf
---------
Pakistan integral to peace efforts, says Ghani
28 March, 2015
NEW YORK: Afghan President Ashraf Ghani who has consistently stressed rapprochement with Pakistan says he is "cautiously optimistic" about improved relations with its neighbour.
Speaking at the Council of Foreign Relations in New York on Thursday evening, he said he thought "Pakistan is integral to peace efforts with the Taliban".
"I am `cautiously optimistic' that we've begun a process of fundamental transformation," he told the council.
Pakistani support has been seen as crucial in recent moves to persuade the Taliban to talk to Kabul, as well as in denying them safe havens on Pakistani soil.
"I am hopeful that we (Pakistan and Afghanistan) will have sufficient wisdom not to sink but to swim together," he added.
Full report at:
http://www.dawn.com/news/1172412/pakistan-integral-to-peace-efforts-says-ghani
---------
Mideast
Iran Senior Cleric: Aggression on Yemen Accelerates Al Saud's Demise
March 28, 2015
Tehran's Provisional Friday Prayers leader Hojjatoleslam Kazzem Seddiqi strongly blasted the Saudi-led attack on the Yemeni people, and warned against the repercussions of the aggression for the Al Saud regime.
Addressing a large and fervent congregation of people on Tehran University campus on Friday, Hojjatoleslam Seddiqi said, "The aggression on Yemen was irritating, inhumane, illegal and a passive move and those who attack a country and interfere in its internal affairs are bringing their own demise closer."
"We condemn this aggression and interfering in Yemen's internal affairs and extend our condolences to the families of the victims and pray for the swift recovery of the wounded people," he added.
Hojjotoleslam Seddiqi expressed the hope that the Yemeni people would achieve their objective which is independence.
Earlier today, senior parliamentary officials in Tehran said that Yemen has missiles which can destroy targets deep inside Saudi Arabia.
"Saudi Arabia is well aware that the Yemeni people and armed forces are capable of targeting the military bases of Saudi Arabia at a distance of 500 kilometers inside that country," member of the parliament's National Security and Foreign Policy Commission Mohammad Hassan Asafari told FNA.
Full report at:
http://english.farsnews.com/newstext.aspx?nn=13940107000580
---------
'Decisive Storm' destroys Houthi missile stockpile
28 March 2015
As the Saudi-led "Operation Decisive Storm," continues into its third day, sources to Al Arabiya News Channel confirmed that coalition strikes destroyed a large Houthi ballistic missile stockpile in the capital Sanaa.
Saudi defense minister Prince Mohammed bin Salman - who is supervising the campaign against Houthi militias in Yemen - sent three planes early Saturday to evacuate a U.N. mission in Sanaa.
The U.N. mission demanded airspace to allow the planes to secure their evacuation from the Yemeni capital to Ethiopia.
The evacuation was met with obstacles, however, as Houthi militias prevented nearly 140 people from the U.N. mission from leaving by surrounding their base.
Saudi Arabia waged early Thursday "Decisive Storm" against the Houthi coup in Yemen and in support of legitimate President Abd-Rabbu Mansour Hadi. A coalition of all GCC countries, barring Oman, is taking part in the campaign, including Sudan, Egypt, Morocco, Jordan and Pakistan. Saudi air campaign was launched overnight which has already resulted in the elimination of several Houthi leaders.
Full report at:
http://english.alarabiya.net/en/News/middle-east/2015/03/28/-Decisive-Storm-destroys-Houthi-missile-stockpile-.html
---------