Islamic World News
17 Feb 2010, NewAgeIslam.Com
US serious to build partnership with Muslim communities: Farah Pandit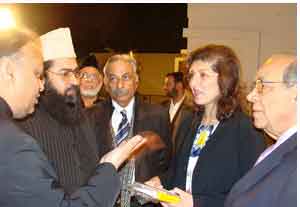 US Muslim Scholars: Full Body Scanners Violate Sharia Law
New Approach Needed to Check Islam-West Conflict
Clinton introduces new Organization of Islamic Conference envoy Hussein
Islamic derivatives standard to launch soon
Radical Islamist leader stirs passion in Pakistan
Islamic finance needs clearer rules: expert
Desecrating a Muslim cemetery with a Centre for Human Dignity
Changes to Indonesian Marriage Bill Possible
Catholic hospice welcomes Muslims
Christians outraged in Lahore over release of young domestic worker's murderer
Musharraf hints at return to Pakistan politics
Muslim suspended from delivering Islam lessons to Army
Saudi prince held after servant is beaten to death in London hotel
Libya bars Europeans over Gaddafi son's arrest
Afghanistan: Obama's escalation begins
US claims Afghan offensive progress
Jamaat chief rejects Indian charges
Israel says no proof it carried out Hamas Dubai killing
Malaria, broken leg killed Tut, say DNA tests
Tharoor says don't blame Pak govt for Pune yet
Al-Qaida in Yemen tests new "anti-detectable" high explosive
Afghanistan Taliban 'using human shields' - general
Islamophobia is behind these attacks on student rights
Christians, Muslims answer questions about religion at Erie college
Nashville's embrace of Muslims rises above recent hate crime
Big hopes, small rise seen for Indonesia sharia finance
Talks to re-live Sharm el-Sheikh?
Obama steps up nuclear investment for climate fight
British duo held for snooping on flights
Bangladesh to rename institutions named after its 'dictator' Rahman
'Force Pak to put terror on table'
Lashkar's 'breakaway' group claims Pune blast
Iran admits to no new nuclear fuel offer
Hezbollah threatens Israel's infrastructure if attacked
Iran is the largest supporter of terrorism: Hillary Clinton
Arrest of Taliban leader: Pakistan holds the key
Taliban commander Mullah Abdul Ghani Baradar: a 'formidable foe'
Muslim Brotherhood is young at heart
European Union hypocrisy over Turkey and Islam
Egypt: Pledge Serious Human Rights Reform
Al-Qaeda chief delivers a warning
My brush with death in Baghdad
Indonesia group prefers gold as dollar loses shine
Zionist group urges donors to avoid UC Irvine
Tories wanted're-engagement' with Iran: documents
Marja offensive: fighting fierce but sporadic
Compiled by Aman Quadri
Photo: Farah Pandit (second from Right)
----
US serious to build partnership with Muslim communities: Farah Pandit
By Mumtaz Alam Falahi
17 February 2010
New Delhi: In her first visit to India today as United States Special Representative to Muslim Communities, Farah Pandit highlighted President Barack Obama's vision to build partnerships with Muslim communities across the globe on the basis of mutual interest and mutual respect. She was holding a roundtable with Muslim journalists in New Delhi.
President Obama and Secretary of State Hillary Clinton are more than serious about establishing good relations with the Muslim communities on the basis of mutual interest and mutual respect. We are engaging young Muslim generation in dialogues and conversations to build trust and remove misunderstandings, said Kashmir-born Farah Pandit.
Asked how she thinks President Barack Obama's outreach effort to the Muslim world is successful, she said: We have continued our efforts to reach to the Muslim communities and build relations and remove misconceptions. We are not ticking box to list success points.
She took several questions from the journalists, most of them were from Urdu media, but carefully avoided political issues when repeatedly asked why the US needed to launch such outreach efforts and a special portfolio of United States Special Representative to Muslim Communities. When asked specifically if the move is an admission that some of its foreign policies have gone wrong, she again did not answer clearly.
Some eminent community members including Maulana Umair Ilyasi also came to meet Farah Pandit.
As Special Representative to Muslim Communities, Pandit is responsible for executing Secretary Clinton's vision for engagement with Muslims around the world on a people-to-people and organizational level. Prior to this appointment, she was Senior Advisor to the Assistant Secretary of State for European and Eurasian Affairs. In this role she was focused on Muslim communities in Europe where she was responsible for policy oversight for integration, democracy, and Islam in the Bureau of European and Eurasian Affairs. Pandit was born in Srinagar, Kashmir, India.
Farah Pandit is among top Muslims of Indian descent picked by President Obama in his administration. Ebu Patel and Rashid Hussain are other prominent officials in Obama administration. Obama has recently appointed Hussain as special envoy to OIC.
http://twocircles.net/2010feb16/us_serious_build_partnership_muslim_communities_farah_pandit.html
----
US Muslim Scholars: Full Body Scanners Violate Sharia Law
By: Jacob Friedman
February 16, 2010
The Fiqh Council of North America (FCNA), North America's leading arbiter of Islamic law, has issued a statement saying that full body scanners violate Islamic modesty laws.
"The FCNA emphasizes that a general and public use of such scanners is against the teachings of Islam, natural law and all religions and cultures that stand for decency and modesty," the Council's statement said.
In light of Britain's "no scan, no fly" policy, and with President Obama on the verge of mandating full body scanners in every airport, this is a particularly interesting development.
The FCNA's demands are relatively simple, they say. Either change the software of the scanners to display only questionable materials on an outline of the body, or allow devout Muslims to request a pat-down instead.
While travelers have long been against the use of full-body images, saying that they violate privacy, strategic blurring of sensitive areas has become increasingly difficult to defend in the wake of the failed Christmas Day Crotch-Bombing. Given the ineffectiveness of metal detectors at detecting plastic explosives, it seems like the trend is moving towards body scanners.
While FCNA's concerns are important, the issue with their solution is that it severely limits the effectiveness of the scanner. If Australia has already stopped blurring "private areas" because they drastically reduce the effectiveness of the scanner, imagine what blurring the entire body would do. Frisking, while certainly a better solution than a metal detector, isn't foolproof either.
Unfortunately for the FCNA's concerns, it may be necessary to adopt a policy similar to Britain's "no frisk, no fly" in the US. However, one of the world's most prominent Muslims, Bollywood actor Shah Rukh Khan, has gone on the record saying that the only people who should fear the body scanners are those who aren't well-endowed.
http://thenextweb.com/us/2010/02/16/muslim-scholars-full-body-scanners-violate-sharia-law/
----
New Approach Needed to Check Islam-West Conflict
Maha Akeel
17 February 2010
An explosive device here or a suicide bomber there and the victims are innocent bystanders, most of them Muslim, with mayhem and destruction all over the place. This is the situation you find in some parts of the Muslim world today.
In addition, there are self-proclaimed "jihadists" who have an extremely distorted understanding of jihad. There are also fanatics who take the law into their own hands and act as judges and executioners in the name of defending Islam.
Whenever terrorist acts occur, whether by organised groups or individuals, the West calls on moderate Muslims to speak up and act. They sometimes even accuse the Muslim political and religious leaders of giving "legitimacy" to these extremists by their silence.
Nothing could be further from the truth. Muslim governments, political and religious leaders as well as organisations such as the Organization of the Islamic Conference have all repeatedly and unequivocally condemned terrorist acts, especially those perpetrated in the name of Islam. After all, these terrorists have done more harm and damage to the image of Islam and provide ammunition and justification for those seeking to malign our faith.
Yet, Western media rarely highlight actions by the Muslim world in fighting terrorism and extremist ideologies. The perpetrators of terrorist activities and the minority who support them have narrow interests and political agendas that have nothing to do with either Islam or the welfare of Muslims. Western media should stop attaching the description "Muslim" to them because by linking the terrorist acts to Islam, the media bestow upon them a legitimacy they do not deserve.
At the same time, the world leaders need to be honest about the circumstances that lead to and nourish such extremist ideologies. Whether it is failed states or failed policies, governments need to reassess the situation and devise appropriate measures to deal with the situation. The root causes of the problem might be underdevelopment, corruption, and injustice, which means dealing with the issue from a socioeconomic point of view instead of relying on military force. Educating and raising the awareness of the local communities about the true Islam is also important to win their support in the fight against extremism and terrorism. We must also remember that as long as there is occupation, there will always be resistance, but this is not to deny the existence of groups and individuals who will use the occupation as an excuse to justify violence to further their own interests and agendas.
Meanwhile, moderate Muslims do need to take a more active and engaging approach in explaining Islam to the West. Bombs are louder than words and make a more interesting media story than a lecture or a conference, but a coherent and consistent message will be resonant in the long run. Relying on Western media is not enough because most often they will follow prescribed scenarios and stereotypes. Many Western satellite channels have launched Arabic versions. How many Arab or Muslim-funded channels are there aimed at the English-speaking 
Western audiences?
Full report at: www.khaleejtimes.com/DisplayArticleNew.asp?xfile=/data/opinion/2010/February/opinion_February97.xml&section=opinion
----
Clinton introduces new Organization of Islamic Conference envoy Hussein
By MARRIAM MOSSALLI
Feb 16, 2010
JEDDAH: "We had a very comprehensive discussion about many issues that the United States and the OIC care deeply about, and talked about action plans that we can pursue together," said US Secretary of State Hillary Clinton on her visit to the headquarters of the Organization of Islamic Conference (OIC) on Tuesday morning.
After a 30-minute meeting with OIC Secretary-General Ekmeledin Ihsanoglu, both emerged with complimentary comments on the conducive talks that took place behind closed doors. She later formally introduced Rashed Hussein as US special envoy to the OIC. The secretary-general further highlighted the positive strides that the US and Muslim nations are taking and referred to Obama's speech in Cairo as a genuine vision of future collaboration between the West and the Muslim world.
Exuding optimism, Hussein, 31, was hopeful that his appointment would bring the US and the Muslim world closer. "I am really honored and humbled to be given this position by President Obama," said Hussein.
He speculated on the region's general consensus of Obama's administration, nine months into office. "One of the things that I've noticed since I've been in the region, is that many people are very happy about the manner in which the president has addressed these issues - in a very sincere way, and that is something I can attest to personally having worked with him. It is also something that I'm sure all of you saw in his visionary address in Cairo." Hussein believes Obama has set an unprecedented framework for "comprehensive engagement, cooperation and partnership between the United States and Muslim communities all over the world." He reiterated his statement by commenting on the involvement of many United States departments and agencies in these efforts, including not only the State Department or Department of Education, but also other departments and agencies, such as the Department of Labor, NASA and the Small Business Administration.
Hussein stated that unlike previous times this was truly a comprehensive scope and not simply defined by one issue.
Full report at: http://arabnews.com/saudiarabia/article18208.ece
----
Islamic derivatives standard to launch soon
Feb 16, 2010
MANAMA (Reuters) - The launch of the first template for an over-the-counter Islamic derivative contract is "imminent" and will encourage more companies to hedge their risks, an executive at a bank involved in its creation said on Tuesday.
The contract, which is expected to pave the way for quicker and cheaper Islamic risk management and more frequent cross-currency transactions, was initially due to be launched a year ago.
"It will be launched imminently," Simon Eedle, Managing Director of Islamic Banking at Credit Agricole CIB (CAGR.PA), told the Reuters Islamic Banking and Finance Summit on Tuesday.
The bank, as well as the IIFM, an industry body backed by the central banks of several Muslim countries, has been working with the International Swaps and Derivatives Association (ISDA) on the contract.
The contract -- to be known as Ta'Hawwut or hedging -- would create a standard legal framework for OTC derivatives in the Islamic market, whereas currently contracts are arranged on an ad hoc basis.
"It will save time," Eedle said, adding that it will also help the industry in managing its asset liabilities.
The Islamic finance industry is governed by a patchwork of national banking regulations, its own standard-setting bodies and scholars interpreting Islamic laws, making contracts much more complicated.
Designing a two-party derivatives contract could previously take six to nine months, which will be considerably reduced by this master agreement, Eedle added.
OTC derivatives, or swaps, are privately negotiated deals between investors and counterparties and are commonly used to hedge against interest rate risk and default risk.
Islamic institutions have limited access to derivative products mainly because Islamic law requires the underlying assets in any transaction to be tangible, virtually excluding most of the mainstream derivatives instruments.
MORE HEDGING SEEN
Full report at: http://www.reuters.com/article/idUSTRE61F1XP20100216
----
Radical Islamist leader stirs passion in Pakistan
By Rick Westhead
Feb 16 2010
Cleric who had key role in bloody showdown with government insists revolution is imminent
ISLAMABAD–When many Pakistanis discuss their country's tumult, they do so with a furrowed brow or a grimace.
Not Maulana Abdul Aziz.
A radical and charismatic Islamist leader who was a central figure in a bloody showdown between security forces and religious conservatives three years ago, Aziz now says he's confident Pakistan is indeed on the road toward becoming a "true Islamic state." He says Pakistan is on its way to adopting strict sharia law – forcing the women of this country of 170 million to begin observing purdah, or being removed from public life.
Aziz is among Pakistan's most controversial personalities and has preached in front of massive crowds, encouraging suicide bombings and repeatedly promising the country is on the verge of "an Islamic revolution" and that "the blood of martyrs will bear fruit."
In July 2007, Aziz and his supporters brought this nation's capital to a standstill when they barricaded themselves inside Islamabad's Red Mosque for more than a week as thousands of supporters rallied outside.
Eventually, police stormed the mosque, formally known as Lal Masjid, and 102 people were killed, including Aziz's brother and son.
Aziz himself was captured when he tried to escape. He fled the mosque wearing a burqa, the head-to-toe veil worn by female students at his conservative seminary.
Sitting in his small home office in central Islamabad, surrounded by eight of his followers and a machine-gun toting security guard, the 60-year-old Aziz spoke with the Star at length about Pakistan's deteriorating security situation, Canada's planned withdrawal from Afghanistan and his embarrassment over being caught fleeing the mosque while wearing a burqa. "Our friends talked to us and said one of us had to get out at any cost," Aziz says, referring to himself and his brother Abdul Rashid Ghazi.
Full report at: http://www.thestar.com/news/world/pakistan/article/765973--radical-islamist-leader-stirs-passion-in-pakistan
----
Islamic finance needs clearer rules: expert
Feb 16, 2010
GENEVA (Reuters) - Sharia-compliant financial products need a clearer legal framework to attract non-Islamic investors, after the Dubai World debt crisis battered perceptions of limited and prudently-managed risk, said one legal expert.
The crisis, sparked when Dubai's Nakheel asked for three listed Islamic bonds worth $5.25 billion to be suspended pending restructuring, was made worse because it was not clear who the legally competent authorities were, said Sonya van de Graaff, a partner at law firm Brown Rudnick.
"While Nakheel 2009 was governed by English law, the entity is in Dubai and so are the assets, so to the extent an English judgment is delivered, investors would need to get it recognized and enforced in Dubai," van de Graaff said at the Reuters Islamic Banking and Finance Summit.
"There is no guarantee the local or DIFC courts would do so. If it is regulated as a government entity, investors may not be able to sue, as Dubai law may give the entity immunity."
Investors in the Dubai projects include several large western banks. They have been both spooked by the crisis and disgruntled by Dubai's proposals to date on how to repay them.
The Islamic bonds, or sukuk, were used to finance massive and ambitious flagship projects like the Dubailand theme park, but when these sukuk were launched, it seems investors paid scant attention to how controversies might be resolved.
"Nobody has ever had to sue over a sukuk before, the legal framework had never been put to the test," said van de Graaff.
Full report at: http://www.reuters.com/article/idUSTRE61F49M20100216
----
Desecrating a Muslim cemetery with a Center for Human Dignity
By Hussam Ayloush
February 16, 2010
Palestinians in Israel have protested the piecemeal destruction of Jerusalem's Mamilla Cemetery over the decades. It's just that their complaints have fallen upon deaf ears.
It is a leap in logic for the Rabbi Marvin Hier, dean and founder of the Simon Wiesenthal Center, to argue in his Feb. 13 Times Op-Ed article that because a parking lot has been built by Israel over part of the Mamilla Cemetery in Jerusalem, or that power and sewage lines have been placed underground, the Muslim cemetery ceases to exist.
The crux of the dilemma is a simple moral one: The Wiesenthal Center is seeking to build a Center for Human Dignity on top of a Muslim cemetery, a historic landmark and a place held sacred by many. Under the Wiesenthal Center's supervision, more than 200 skeletons have been unearthed at the site.
The cemetery land, along with other property in the waqf (Islamic trust), was designated as "absentee property" when West Jerusalem came under Israel's control after 1948. The land was ruled no longer sacrosanct in 1964 by the state-sanctioned Islamic Sharia Court in Jerusalem, whose members were appointed by Israel and largely distrusted by the Muslim population. In violation of international law, the land was then designated by Israel as public open space, and the municipality built a parking lot on it.
Hier's claim that there has not been any opposition to the building of the parking lot ignores the fact that the government imposed martial law on Palestinians in Israel until 1966. Under this martial law, Israel ensured that any indications of national spirit or identity among Palestinians were quickly and forcefully crushed.
Full report at: http://www.latimes.com/news/opinion/la-oew-ayloush17-2010feb17,0,7205587.story?track=rss
----
Changes to Indonesian Marriage Bill Possible
Camelia Pasandaran
February 17, 2010
The Ministry of Religious Affairs on Tuesday said it would stand by its proposed draft bill on marriage, which includes controversial articles, but said it was open to reconsidering some points.
The bill, which has been included in the House of Representatives' list of priority bills for this year, proposes a maximum fine of Rp 6 million ($648), or six months imprisonment, for marrying without either the proper documents or the presence of an authorized religious official.
Under the bill, any state official found providing help to administer marriages could also face both a jail term and a hefty fine.
Law No. 1/1974 on Marriage requires people to register their marriages with the appropriate civil registry office.
However there are no penalties for violators.
Masruchah, a commissioner of the National Commission on Violence Against Women (Komnas Perempuan), said she agreed with the banning of unregistered marriages but not with the proposed punishments.
"Considering the punishments, we should understand first that many of those who are tied in an unregistered marriage are from the low-income class," she said.
"If we applied imprisonment and fines, it won't be fair to them. For the wealthy people, it might seem like a light sanction but not to poor people."
However, she said that for someone like Sheikh Puji, a central Java religious figure who married a 12-year-old girl, the proposed sanction is too light.
Minister of Religious Affairs Suryadharma Ali said he was considering several different kinds of punishment instead of imprisonment.
"It is still a draft and open for revision," he said. "We need more opinions, views and reasons that will be philosophical and sociological considerations."
He said he expected the House to agree to the bill.
"However, if they don't agree, we will probably change the punishment into administrative punishment, such as oblige them to register, announce it to the public or pay a fine," he said.
Suryadharma said those couples whose marriages were unregistered need not remarry.
"They only need to register," he said. "Because if we claimed that their marriage is illegal, then if they have children, they are children of adultery."
Last year, the alleged spiritual leader of terrorist group Jemaah Islamiyah, Abu Bakar Ba'asyir, told Antara that banning unregistered marriages was crucial.
Ba'asyir claimed that those involved in an unregistered marriage wanted to keep it secret, which is against the tradition of Islam that marriages should be publicized widely.
"One who doesn't want their marriage out in the open is a coward. The state needs to immediately take action and stop this kind of marriage," Ba'asyir said.
http://www.thejakartaglobe.com/home/changes-to-indonesian-marriage-bill-possible/359127
----
Catholic hospice welcomes Muslims
Mark Gould
17 February 2010
England's oldest hospice is opening its doors to the large numbers of Bengali and east African Muslims in the East End of London - bringing spiritual and medical care changes
England's oldest hospice has always felt very Catholic and cockney, from its plaster statues of saints and chapel smelling of floor polish and incense to the charity fundraising photographs with local girl Barbara Windsor. But now, as illustrated by the bold multi lingual welcome banner, it is opening its doors to the large numbers of Bengali and east African Muslims now living in the East End of London. And that is bringing radical changes – not just spiritual, but for medical care as well.
Since 1900, when it was established by five Catholic nuns from Dublin, St Joseph's Hospice in Hackney has gained an inter national reputation for advances in the care of the dying. The Sisters of Charity who founded it would never turn away a patient, irrespective of religion. And now, in partnership with local health charity Social Action for Health (SafH), it has opened up a dialogue with local Muslims, the vast majority of who don't even have a word in their own language for hospice.
Michael Kerin, the hospice's chief executive, says that the work, now in its second year, has been an education for all. Over a series of meetings between local Bengalis and Somalis, brokered by SafH "health guides" drawn from these communities, pain relief experts at the hospice have learned that it is vitally important for a dying patient to be ­conscious enough to be able to say the shahada, the Islamic testament of faith, or at least to hear it recited by a priest. As a result, staff are learning to balance pain relief medication so that patients have a greater time of wakefulness near their death.
Kerin says clinicians are also learning new ways of communicating bad news. Christians might say, "Tell me how long I have got." But in Muslim culture it starts from the premise that God determines how long we have got and not a doctor. For a doctor to tell Muslim patients that they have got two or three days to live is "culturally and religiously alien". So doctors and nurses are developing a new vocabulary in terms of how they convey these messages to patients and relatives.
A Bengali participant at the SafH meetings explained that it was also vital to ensure enough space for possibly large numbers of family and friends, as it was important to close worldly accounts by seeking and asking forgiveness. Now imams as well as priests are on call, and work is in progress to speed up funerals in line with the Islamic custom of burial within 24 hours.
So have the changes created any tension for the Sisters of Charity, who still have a convent on the site but no longer have a day-to-day nursing role? Sister Jacinta Boland says: "It was never an issue for us. There was never any question of, 'Is he a Catholic?', or, 'I must convert him'. The whole motivation was the one that our founder set out, that 'the poor be given for love what the rich obtain for money'. It's what we came here for in 1900."
http://www.guardian.co.uk/society/2010/feb/17/catholic-hospice-welcomes-muslims
----
Christians outraged in Lahore over release of young domestic worker's murderer
by Fareed Khan
02/16/2010
Angry protests receive judge's decision to release Chaudhry Muhammad Naeem, charged with the murder of Shazia Bashir. Police, doctors and prosecutors are accused of complicity with the accused. The silence of political and legal authorities is deafening to many on Facebook.
Lahore (AsiaNews) – Pakistani Christians have strongly protested the release on bail of a Muslim lawyer accused of raping, torturing and killing last month Shazia Bashir, a 12-year-old Catholic girl, employed in his household as domestic worker. They have appealed to the Chief Justice of Pakistan Iftikhar Muhammad Chaudhry, a symbol of judicial independence in Pakistan, to take immediate action against the court's decision.
The girl's parents (mother pictured) led the protest as demonstrators shouted slogans and carried banners, proclaiming "Innocent Shazia's blood calls for punishment of a ruthless murderer and corrupt doctors" and "The bail of murderer raises questions for rulers."
Last Saturday, Judge Shafiq-ur-Rehman of the Lahore Court released Muhammad Naeem, his wife and son on bail.
The accused's lawyer said the girl's autopsy report did not prove she was murdered, but indicated instead that she had died from an infection caused by old injuries.
In his opinion, the case was not about murder, especially since 14 days of police investigation did not yield any evidence that would suggest that Muhammad Naeem or any member of his family was involved in the girl's death.
The Christian community has rejected the lawyer's claims as well as the results of the autopsy, pointing out that Shazia's body showed signs of torture and sexual abuse.
They claim that the powerful former head of the Lahore Bar Association locked the girl in his house against her will and killed her when she refused to work for him.
In protest, a group of Christians blocked the road outside the Lahore Press Club, and burnt the picture of a Jinnah Hospital official, whom they accuse of falsifying the girl's death certificate.
In two weeks of hearings, Christian lawyers and anyone trying to represent the victim's family have receive threats and experienced acts of intimidation (see Fareed Khan, "Lahore, Muslim lawyers will 'burn alive' anyone who defends murdered 12 year old Christian").
Activists have also alleged that defence lawyers, police, judges and government authorities have worked together, coming close to colluding, in order to bury the case.
The Centre for Legal Aid, Assistance and Settlement (CLAAS) and the Human Liberation Commission of Pakistan (HLCP) have organised the Christian protest. Their leaders have complained that in Shazia's case, justice was assassinated by the powerful machinery of the state, which seeks to save the skin of the murderer, Muhammad Naeem.
They also blame doctors for playing a shameful role in doctoring the medical report, and police for manipulating the investigation.
Not only has the appeal against bail reached Supreme Court Justice Iftikhar Muhammad Chaudhry, but it has also seized public opinion, finding its way on online discussion forums and the social network Facebook.
For many in cyberspace, the silence by the chief justice and the minister of mminorities is deafening.
http://www.asianews.it/news-en/Christians-outraged-in-Lahore-over-release-of-young-domestic-worker%E2%80%99s-murderer-17646.html
----
Musharraf hints at return to Pakistan politics
Feb 17, 2010
LONDON: Former Pakistan president Pervez Musharraf, settled here on self-exile, has hinted at a return to Pakistan politics if the voters of his country decided.
Stating that he loved his country, the former President said "I would do anything to Pakistan."
The retired general who was replaced last year in elections after nine years as president was speaking at a meeting at the Chatham House, a think-tank, here.
Musharraf, who ousted the elected government of prime minister Nawaz Sharif in 1999, said "For Pakistan one would be prepared to do anything. However, it is for the people of Pakistan who need to decide."
"I'm a civilian now, I'm not a military man, I cannot take over anything," a reference to his seizure of power while army chief from Sharif, the former military ruler said in a lighter vein.
"I have to come through the political process, through the process of elections.
But I think it's very good - it's very good because I think I will have that legitimacy which I never had," he said.
Musharraf did not say if he has decided to return to Pakistan to face trial over his 2007 detention of judges as he clung to power.
Musharraf had imposed a state of emergency and sacked 60 judges on November 3, 2007 when the Supreme Court appeared poised to declare him ineligible to contest a presidential election while in military uniform.
Musharraf now leaves in a three-bedroom flat behind the 'shisha bars' and 'kebab joints' of London's Arabic quarter. But security remains tight.
The general is guarded by a small team of retired Pakistani commandos and pays for his security himself. Scotland Yard also extends protection to the former Pakistani ruler.
http://timesofindia.indiatimes.com/world/pakistan/Musharraf-hints-at-return-to-Pakistan-politics-/articleshow/5578509.cms
----
Muslim suspended from delivering Islam lessons to Army
By Michael Carl
February 16, 2010
Decision comes following complaint over 3 days of teaching at Fort Hood
A Muslim hired to give Islamic lectures to members of the U.S. Army on military bases has been suspended from that work pending an investigation that was launched by the Naval Criminal Investigative Service and has been referred to the Army, authorities have confirmed.
It was just weeks ago when military officials told The Dallas Morning News that Louay Safi, who works with the Islamic Society of North America's leadership development team, providing Muslim chaplains a religious endorsement they need to work in the military, had come under scrutiny as he was giving a series of lectures at Fort Hood in Texas only a short time after 13 adults and an unborn child died in an attack that has been attributed to Muslim activist Maj. Nidahl Malik Hasan.
Ed Buice, an NCIS spokesman, declined to elaborate on the reason for the suspension and subject of the investigation, but the newspaper quoted other military officials saying the inquiry began after a complaint in December as Safi concluded three days of lectures at Fort Hood, according to The Global Muslim Brotherhood Daily Report.
Now a number of experts say the investigation is just too little and too late.
"The NCIS is conducting an investigation into Safi, and in my opinion, the investigation is several days late and many dollars short," terrorism expert Christopher Holton, an analyst with the Center for Security Policy, told WND.
http://www.wnd.com/index.php?fa=PAGE.view&pageId=125282
----
Saudi prince held after servant is beaten to death in London hotel
By Rebecca Camber
17th February 2010
A Saudi prince is being quizzed by police on suspicion of murder after one of his servants was found battered to death at a top London hotel.
Officers were called to the five-star Landmark Hotel in Marylebone, Central London, after a 32-year-old Saudi Arabian man was found dead in one of its suites.
The victim, believed to be part of the royal's entourage, suffered severe head injuries in the attack.
Last night detectives were questioning a man in his 30s who told them he was a prince of the Saudi royal family.
It is thought that the unnamed royal had not claimed diplomatic immunity following his arrest on Monday evening.
Paramedics had earlier been called to a third-floor room of the hotel where they found the man dead.
Police were yesterday awaiting the results of a post mortem examination before releasing further details.
However, Yard sources confirmed that the case is being treated as a murder inquiry.
Last night a section of the hotel's third floor was screened off from view of guests as the scene was photographed by forensics officers.
The death has shocked staff and guests at the prestigious hotel, which is popular with celebrities.
Rooms at the Grade II-listed Landmark Hotel, which was built in 1899, cost from £400 a night, while the presidential suite commands up to £2,400.
Former Oasis singer Liam Gallagher and his wife Nicole Appleton held their wedding reception there in February 2008.
Among the hotel's most popular attractions are its beauty salon, pool and whirlpool bath where Justin Timberlake, TV presenter Myleene Klass and Formula One former world champion Lewis Hamilton have all been pampered.
In 2007, Michelle Obama held a fundraising-event at the hotel to boost her husband's chances of getting into the White House, charging guests up to £1,150.
Yesterday the hotel's general manager Francis Green issued a statement offering his condolences over the death.
'Unfortunately, the Landmark Hotel can confirm the death of a guest on Monday who was staying at the hotel,' he said.
'Police were informed immediately and have launched an investigation surrounding this incident and we are co-operating fully with them and are therefore unable to comment further.
'This is an isolated incident and our thoughts are with the relatives of the deceased.'
A Metropolitan Police spokesman said: 'The death is being treated as suspicious and is being investigated by officers from the Met Police's Homicide and Serious Crime Command.'
The Saudi Arabian Ambassador to London was unavailable for comment last night.
http://www.dailymail.co.uk/news/article-1251528/Saudi-prince-held-body-Landmark-Hotel-London.html
----
Libya bars Europeans over Gaddafi son's arrest
Feb 17, 2010
GENEVA: Libya is refusing to issue visas for visitors from nearly every European country in a bizarre escalation of a dispute that began when Swiss authorities arrested the son of Moammar Gaddafi on suspicion of beating up his servants.
The new restrictions prevent everyone from oil executives to tourists from Europe's passport-free zone of 25 nations from visiting Libya, which has been trying to shed its image as an international pariah and attract investment from Western companies.
Libyan visas already granted are also no longer valid, European governments said, and a number of Italians were waiting in Tripoli's airport for a flight to take them home. Libyan government officials refused to comment.
European officials said the move was clearly retaliation for the 25 nations' cooperation with a Swiss travel blacklist of Gaddafi and his son Hannibal and other relatives, along with Libyan government officials.
Hannibal was held in a Swiss jail for two days after his arrest in July 2008 because he and his wife were accused of beating up their servants in a Geneva hotel. Geneva authorities dropped their criminal investigation after the two servants received compensation from an undisclosed source and withdrew their complaint.
Since then, the Swiss government's policy toward Libya has vacillated between capitulation and hardball tactics, with both failing to resolve the dispute.
"We don't have problems with Libya, Switzerland does," Italian foreign minister Franco Frattini said on Swiss TV. "We are helping Switzerland but it can't take the rest of Europe hostage."
http://timesofindia.indiatimes.com/world/middle-east/Libya-bars-Europeans-over-Gaddafi-sons-arrest/articleshow/5581909.cms
----
Afghanistan: Obama's escalation begins
Joe Kishore
17 February 2010
The offensive begun February 13 against the town of Marjah is the first major effort undertaken by the US military in Afghanistan since President Barack Obama ordered the intensification of the US war effort and the dispatch of 30,000 additional American troops. The attack on Marjah is the largest US military operation in the war since the initial 2001 invasion ordered by George W. Bush.
Marjah is to be followed by a series of escalating offensive thrusts across Helmand and Kandahar, the two heavily populated provinces in southern Afghanistan that have been the focal point of guerrilla resistance to the US occupation regime. According to figures published last month, these two provinces alone account for more than 600 of the 1,600 deaths among American and NATO troops in the Afghanistan war.
The methods being employed in Marjah give a glimpse of what the Obama administration and the Pentagon have in store for the Afghan people throughout this year, particularly once the spring weather makes possibly more aggressive deployment of US firepower, especially warplanes and helicopter gunships whose use is curtailed during the winter.
The claim by US officials, parroted by the media, that the offensive would be conducted with minimal civilian deaths was blown apart on Sunday, when 12 people were killed in a military strike against a house in the small city of about 80,000 people. Among the dead were 6 children. In total, up to 20 civilians have been killed, according to media reports.
In addition, the US military says that it has killed about 100 of the estimated 400 resistance fighters using rifles and rocket-propelled grenades to oppose 15,000 heavily armed US, British, Canadian and Afghan puppet troops, backed by warplanes, drones and artillery. The US routinely refers to anyone resisting the occupation as Taliban, and it is impossible to determine how many of these dead were actually combatants.
An Italian medical agency has also charged NATO forces with blocking injured Afghans from being transported to hospitals in Lashkar Gah, the provincial capital. In Kandahar Province, east of Marjah, five civilians were killed in an air strike—another "mistake," according to US officials.
After establishing control of the city, occupation forces plan a door-to-door sweep in search of opponents of the occupation. With one invading soldier for every five people in the Marjah area, there will no doubt be many more civilian casualties to come.
The operation in Marjah was launched from the beginning as a propaganda offensive, aimed as much at the American people as the Afghan. A "success" in Marjah is intended to demonstrate the viability of Obama's surge in Afghanistan and the counterinsurgency strategy of the top US commander in Afghanistan, General Stanley McChrystal.
The American media, consisting largely of reporters "embedded" in various military units who submit their stories to military censorship, has dutifully parroted the line of the government—that it is doing all it can to minimize civilian casualties and win the "hearts and minds" of the Afghan people. McChrystal has boasted that NATO forces are bringing in tow a "government in a box" that is ready to take charge, and, supposedly, bestow peace and prosperity on Marjah.
The civilian deaths are inevitably presented as unfortunate but inevitable. This is accompanied by discussion about the supposed constraints placed on US actions to avoid civilian deaths, increasing the danger facing soldiers. The corollary of this line is predictable: the unleashing of militarist violence and atrocities on a broader scale will be presented as the frustrated response of soldiers to these undue restrictions and blamed on those resisting the occupation.
The offensive to take control of Marjah is only the first step in a southern offensive in the Helmand and Kandahar provinces, the heartland of the guerrilla resistance to the foreign occupation and the corrupt stooge regime of President Hamid Karzai. This is to be accomplished through widespread killing, the systematic and brutal repression of anyone who resists the right of the US to occupy Afghanistan.
Once US control is consolidated in Marjah and central Helmand province, and as more US reinforcements arrive in the spring, larger and bloodier campaigns are in store, culminating in an onslaught on Kandahar, Afghanistan's second city and the birthplace of the Taliban, ruled by the president's brother, drug kingpin Ahmad Wali Karzai, during the day, and by the Taliban at night.
With a population of nearly half a million, Kandahar is comparable in size to Fallujah, the Iraqi city that was largely destroyed by US troops in November 2004 and has been citied by military officials as a model for the present campaign.
The criminal operation being carried out under the direction of the Obama administration has been accompanied by the silence of the middle class "anti-war" organizations in the US. These groups have been thoroughly compromised by their support for Obama and in fact defend the basic aims of the US in the war.
The flagship of these organizations, The Nation magazine, has not published a single article on its website on the offensive in Marjah. What commentary that is published on Afghanistan is concentrated on tactical questions facing the ruling class, including whether or not American forces should engage in negotiations with sections of the Taliban.
The offensive in southern Afghanistan demonstrates that the coming to power of Barack Obama and the Democratic Party has done nothing to halt the escalation of American militarism. The Afghan surge has been combined with a sharp increase in US drone missile attacks on Pakistan, which killed 123 civilians in January; the opening up of a new front of the "war on terror" in Yemen; growing threats against Iran; and increasingly provocative actions against China.
The expansion of war is determined by the fundamental interests of American capitalism, including establishing control over the geo-strategically central regions of the Middle East and Central Asia. War is the outward expression of the predatory interests of the American financial elite. The ballooning military budgets, like the massive bank bailouts, will be paid for through cuts in social programs and the intensification of the exploitation of the working class.
It is necessary to launch a renewed struggle against war, including the demand for the immediate and unconditional withdrawal of all US and other foreign troops from Afghanistan. Such a struggle must proceed from the basic understanding that the fight against war must be a fight against capitalism, the Obama administration and both parties of big business. It requires the independent political mobilization of the working class on the basis of a socialist program.
http://www.wsws.org/articles/2010/feb2010/pers-f17.shtml
----
US claims Afghan offensive progress
February 17, 2010
US military officials have said they are now in control of crucial areas in Marjah in Helmand province as a major offensive in Afghanistan against the Taliban enters its fifth day.
But Afghan intelligence sources, speaking to Al Jazeera on Wednesday, cast doubt on the claim.
About 15,000 Afghan, Nato and US troops are involved in the offensive dubbed Operation Mushtarak.
A Taliban spokesman also disputed the US military's claims, saying the fighters have Nato forces under seige.
Al Jazeera's James Bays, reporting from Helmand, said the Taliban had put out a statement saying "this is going to be a shameful defeat for international forces".
He said Brigadier-General Larry Nicholson, the commander of US marines in the province, avoided sounding upbeat about the operation, while cautioning that "there were tough days ahead".
Nicholson echoed "comments from the governor of Helmand, who ... believes there are significant numbers of Taliban still in some of these villages, he believes some of them are foreign fighters, among them Pakistanis, who are holding out in some of these areas", our correspondent said.
Civilian deaths
Nato-led and Afghan forces have clashed with Taliban fighters in Marjah and the nearby district of Nad Ali in the continuing offensive that also seeks to eradicate drug traffickers that have controlled the region for years.
Three more Afghan civilians have died during the offensive, taking the total killed since the start of the operation to 15, Nato forces said.
The commander of British troops in southern Afghanistan said two missiles that struck a home on Sunday, killing 12 people, did hit their intended target.
It was originally thought the rockets missed their target.
Major-General Nick Carter's comments came as Afghan authorities handed over the bodies for burial. He said Taliban fighters were in the house.
Nato has said the aim of the operation is to re-establish Afghan government control in the area so security and civil services such as police stations, schools and clinics can be set up.
Hoping to avoid prolonged gun battles, US soldiers called for long-range artillery support to disperse sniper squads delaying their advance into Marjah in the Taliban's southern heartland.
For the first time since the offensive started on Saturday, US forces fired non-lethal artillery "smoke shells'' in a bid to intimidate Taliban fighters, who reportedly lobbed rockets and mortars at them.
"We are trying not to be decisively engaged so we can progress, but we're having some difficulty right now," Captain Joshua Winfrey, Lima company commander, said.
Despite the continued firefights, marine officials said the resistance was more disorganised than in previous days.
"We're not seeing co-ordinated attacks like we did originally," Captain Abraham Sipe, a US army spokesman, said.
"We're still getting small-arms fire but it's sporadic, and hit-and-run tactics."
Nato officials have reported the deaths of only two international forces troops during the operation so far, with one American and one Briton killed on Saturday.
Booby-trapped streets
In Marjah, US marine and Afghan squads have been skirting the booby-trapped streets of the town, where Taliban snipers have been firing from haystacks built over small canals.
The marines' goal has been to link up with other companies that were airdropped into the town on Saturday, but progress has been slow.
Residents said they were scared to be seen with Nato forces.
As the fighting entered its fifth day, Pakistani intelligence officials said a US missile strike had killed at least three people near the Afghan border.
The two officials, who spoke on condition of anonymity because they were not authorised to speak publicly to the media, said Wednesday's attack destroyed a home in Tabbi Tool Khel village of North Waziristan in Pakistan.
The CIA has targeted homes, vehicles and suspected al-Qaeda hideouts in Pakistan's volatile North and South Waziristan tribal regions since December when a bomber killed seven of its employees in Afghanistan.
http://english.aljazeera.net/news/asia/2010/02/20102174756956799.html
----
Jamaat chief rejects Indian charges
February 17, 2010
Hafiz Mohammed Saeed, leader of the Pakistani organisation Jamaat-ud-Dawah, has said that allegations against him of plotting attacks in India are baseless.
Saeed is accused by India of masterminding the November 2008 attacks that left at least 166 people dead and hundreds more wounded in the country's financial capital, Mumbai.
"India always indulges in propaganda and has always fabricated false reports about me and that's how India has been able to use international pressure against us," Saeed said in an exclusive interview to Al Jazeera's Kamal Hyder in the Pakistani city of Lahore.
His organisation, Jamaat-ud-Dawah, is suspected by security experts to have strong links with Lashkar-e-Taiba, which India accuses of carrying out the Mumbai attacks that targeted two luxury hotels, an Orthodox Jewish centre and several other public places.
Wanted by India
Saeed, a well-known political figure in Pakistan, is wanted by both India and the US.
He was put under house arrest by the Pakistani army on December 11, 2008, after the UN declared that Jamaat-ud-Dawah was a front for Lashkar.
"But the Punjab High Court exonerated us and they concluded that neither I nor the Jamaat-ud-Dawah had any involvement in the Mumbai attacks," he told Al Jazeera.
Pakistan made several arrests in connection with the Mumbai attacks, but no criminal charges were brought against Saeed.
In a recent interview with Al Jazeera, P Chidambaram, India's interior minister, alleged that the training for the Mumbai attacks was personally co-ordinated by Saeed.
"Hafiz Saeed selected the trainees and gave them new names. [Ajmal] Kasab was given a new name, Abu Mujahid, and that name was given by Saeed," he said.
Chidambaram was referring to Ajmal Kasab, the sole surviving suspect in the Mumbai attacks.
Kasab link denied
When asked to comment on the accusations, Saeed said: "I never saw him [Kasab]. In fact, it was from media in India that I discovered he was a Pakistani national.
"I have never met Kasab nor have I ever known him and I have said this on many occasions. This is baseless propaganda without an iota of truth."
Propaganda was also his response to whether he favoured the idea of having open dialogue with India.
"I never said no to dialogue - that is propaganda. I have always talked about having open dialogue, but it needs to be productive, it needs to obtain results," Saeed said.
"India has never had a sincere interest in opening dialogue. When they do, it is because of national interest. If India wants to restore confidence in opening dialogue with Pakistan, then India must accept Kashmir as a core dispute."
"India saturated all of Kashmir with military personnel. They must change the situation on the ground, withdraw their forces and set a timeframe for such a withdrawal."
Other factors
Commenting on Saeed's statements, Asad Durrani, a former head of Pakistan intelligence services, told Al Jazeera: "Whatever he said, some of it should be taken with truth, but there are of course many other factors which he has not talked about."
Al Jazeera's Kamal Hyder said: "What Saeed was trying to do was to clear up the misconception that Jamaat-ud-Dawaa was a terrorist organisation.
"What we did see for the first time was a message offerring a chance for peace, but the only thing is how sincere Islamabad and New Delhi are in trying to bring about that peace or are they obstacles still remaining."
http://english.aljazeera.net/news/asia/2010/02/201021785121810598.html
----
Israel says no proof it carried out Hamas Dubai killing
17 February 2010
Israel's Foreign Minister Avigdor Lieberman has said there is no proof the Mossad spy agency carried out the killing of a Hamas commander in Dubai.
But he did not fully deny that Israel carried out the killing, citing its "policy of ambiguity" on such matters.
Dubai believes 11 "agents with European passports" killed Mahmoud al-Mabhouh.
Seven foreign-born Israelis named as suspects say their identities were stolen and they were not involved. UK passports used were said to be fake.
France, Germany and the Irish Republic also said they believed the passports from their countries used by the alleged killers were false.
'Israel never confirms'
Hamas has accused Israeli agents of murdering their operative - a view shared by many commentators because Mossad has in the past used forged foreign passports in its operations.
But in Israel's first official comments on the affair, Mr Lieberman said there was no reason to blame Israel and Mossad.
"I don't know why we are assuming that Israel, or the Mossad, used those passports," he told Army Radio.
"There is no reason to think that it was the Israeli Mossad, and not some other intelligence service or country up to some mischief."
He did not outright deny Israeli involvement.
"Israel never responds, never confirms and never denies," he said. "There is no reason for Israel to change this policy."
Mr Mabhouh was murdered in his hotel room in Dubai on 20 January.
Reports have suggested he was in Dubai to buy weapons for the Palestinian Islamist movement, Hamas.
Two Palestinian suspects were being questioned about the murder. Police said they had "fled to Jordan" after the killing, without releasing their names.
Officials in Dubai, who have issued arrest warrants, said the team appeared to be a professional hit squad, probably sponsored by a foreign power.
They released CCTV footage which they said showed some of the suspects in disguises, including wigs and false beards, in the hotel near Dubai's international airport.
The suspects allegedly trailed Mr Mabhouh when he arrived in Dubai from Syria, paid for everything in cash and used various mobile phones.
Some of the British-born Israelis whose names were on the passports used by the suspects have said they are shocked by the discovery.
"I don't know how they got my details, who took them," said Stephen Daniel Hodes, 37.
"I haven't left the country, I think, for two years and I've never been to Dubai ever. I don't know who's behind this. I am just scared, these are major forces," he said.
http://news.bbc.co.uk/2/hi/middle_east/8520247.stm
----
Malaria, broken leg killed Tut, say DNA tests
Feb 17, 2010
CAIRO: Egypt's famed King Tutankhamun suffered from a cleft palate and club foot, likely forcing him to walk with a cane, and died from complications from a broken leg exacerbated by malaria, said the most extensive study ever of his mummy.
The findings were from two years of DNA testing and CT scans on 16 mummies, including those of Tutankhamun and his family, the team that carried out the study said in the Journal of the American Medical Association.
It also established the clearest yet family tree for Tut. The study said his father was most likely Akhenaten, the pharaoh who tried to revolutionize Egyptian religion to worship one god — while his mother was a still unidentified sister of Akhenaten.
Tut, who became pharaoh at the age of 10 in 1333 BC, ruled for just nine years at a pivotal time in Egypt's history. While a comparatively minor king, the 1922 discovery of his tomb filled with stunning artifacts, including a golden funeral mask, made him known the world over.
Speculation had long swirled over why the boy king died at such a young age. A hole in his skull long fueled speculation he was murdered, until a 2005 CAT scan ruled that out, finding the hole was likely from the mummification process. The scan also uncovered the broken leg.
The newest CAT scans and DNA tests revealed a pharaoh weakened by congenital illnesses finally done in by complications from the broken leg aggravated by severe brain malaria. The team said it isolated DNA of the malaria parasite — the oldest such discovery.
"A sudden leg fracture possibly introduced by a fall might have resulted in a life threatening condition when a malaria infection occurred," concluded the article in the Journal of the American Medical Association. "Tutankhamun had multiple disorders... He might be envisioned as a young but frail king who needed canes to walk."
Like his father, Tutankhamun had a cleft palate. He also had a club foot, like his grandfather, and suffered from Kohler's disease in which lack of blood flow was slowly destroying the bones of his left foot.
http://timesofindia.indiatimes.com/world/middle-east/Malaria-broken-leg-killed-Tut-say-DNA-tests/articleshow/5581922.cms
----
Tharoor says don't blame Pak govt for Pune yet
Feb 17, 2010
THIRUVANANTHAPURAM: Union minister of state for external affairs Shashi Tharoor doesn't believe the government of Pakistan can be held responsible for the Pune terror strike.
Responding to a query in the context of the Pune attack, Tharoor, while speaking at an interactive session in Kochi on Monday said, ''I'm not accusing the government of Pakistan at all. In fact, we believe that there are a number of actors in Pakistan who may be behind some of these actions.''
The MoS however added that though the government would not yet point fingers at any foreign country for the Pune blast as the investigation was not yet complete, ''it is a fairly safe presumption looking back at the last 15 years of attack on India that many (of them) originated from across the border''.
He stressed the need for using diplomacy and international cooperation to combat terrorism and added that the government could offer programmes to create awareness on using policy and diplomacy to deal with cross-border terror.
''Through diplomacy and international cooperation; you have to do what you can to prevent attacks from outside, but to speak of 100 per cent safety would be impossible,'' he said.
http://timesofindia.indiatimes.com/india/Tharoor-says-dont-blame-Pak-govt-for-Pune-yet/articleshow/5582077.cms
----
Al-Qaida in Yemen tests new "anti-detectable" high explosive
2010-02-17
The al-Qaida in the Arabian Peninsula (AQAP said it has successfully tested a new anti- detectable high explosive to improve its capability in the war against the West, its "Military Commission" said in a newly- published statement on Tuesday.
In its publication of the 12th issue of online magazine posted on the Internet on Tuesday, al-Qaida said: "we have tested a new generation of anti-detectable powerful explosive that is now on its final phases."
"Its capacity (to kill high-profile officials and destroy airplanes) is far greater than plastic explosives such as (PETN) and (RDX) and other high explosive devices," the al-Qaida's commission went on to say.
Counter-terrorism experts say the newly-released statement will raise Western's concern about the threats posed by the terrorist group in Yemen. Security officials here, however, dismissed al- Qaida's issues as a mere propaganda exercise.
"The real capability of the al-Qaida's branch has been far weakened since the Yemeni government and its security agencies launched a severe crackdown on the militancy during the past three months," a senior official of the Interior Ministry told Xinhua on condition of anonymity.
He said the security authorities take zero tolerance against those insignificant amount of the extremist militants.
AbdulElah Hider Shaee, a specialist on the Islamic groups and security affairs in Yemen, said the al-Qaida's media activity adds to the evidence that the group is thriving despite the government's strict anti-terrorism drive.
"The al-Qaida organization is much more ordered now than it was when the Yemeni-Saudi affiliates merged one year ago," he said.
In the issue, AQAP also revealed some details on how it prepared the "anti-detectable explosive device" that concealed in the underwear of Nigerian suspected would-be bomber Umar Farouk Abdulmutallab, whom al-Qaida claimed he was dedicated himself utterly to carry out the suicide attack.
The issue claimed that Abdulmutallab was very devoted to the group and he asked to carry out such attack.
According to the magazine, the group took "four years to study various international airports' security systems and discovered weak points in each one."
Last week, the deputy leader of AQAP Said Ali al- Shihri called on Yemeni tribes to stage jihad, or holy war, against Western interest and the Yemeni government to revenge recent air raids against their hideouts.
On Jan. 25, al-Qaida leader Osama bin Laden claimed responsibility for the failed Christmas Day attempt to explode the Detroit-bound flight in an audio tape broadcast on the pan-Arab al- Jazeera satellite TV channel.
Yemen, the poorest Arab country facing a growing al-Qaida militancy, has been launching a continuing anti-terrorism campaign including air raids against al-Qaida militants in several southern and eastern provinces.
http://news.xinhuanet.com/english2010/world/2010-02/17/c_13177339.htm
----
Afghanistan Taliban 'using human shields' - general
17 February 2010
Taliban militants are increasingly using civilians as "human shields" as they battle against a joint Afghan-Nato offensive, an Afghan general has said.
Gen Mohiudin Ghori said his soldiers had seen Taliban fighters placing women and children on the roofs of buildings and firing from behind them.
The joint offensive in southern Helmand province has entered its fifth day.
US Marines fighting to take the Taliban haven of Marjah have had to call in air support as they come under heavy fire.
They have faced sustained machine-gun fire from fighters hiding in bunkers and in buildings including homes and mosques.
Gen Ghori, the senior commander for Afghan troops in the area, accused the Taliban of taking civilians hostage in Marjah and putting them in the line of fire.
"Especially in the south of Marjah, the enemy is fighting from compounds where soldiers can very clearly see women or children on the roof or in a second-floor or third-floor window," he is quoted by Associated Press as saying.
"They are trying to get us to fire on them and kill the civilians."
As a result, his forces were having to make the choice either not to return fire, he said, or to advance much more slowly in order to distinguish militants from civilians.
Nato has stressed that the safety of civilians in the areas targeted in the joint Nato and Afghan Operation Moshtarak is its highest priority.
Journalist Jawad Dawari, based in Lashkar Gah, told BBC Pashto that Taliban fighters remained in many residential areas of Marjah and were defending their positions with heavy weapons.
"It is difficult for the Afghan army and Nato to storm Taliban-held areas because to do so may inflict heavy civilian casualties and there are still a lot of civilians in Marjah.
"Whenever they launch an attack, the Taliban take refuge in civilians' homes."
He had spoken to many local people in Marjah, he said, and they had all said the Nato offensive had made little progress since the first day.
An Afghan military official had told reporters that the backbone of the resistance came from foreign fighters - Pakistani and Arab - and that it was feared they might resort to suicide attacks, he added.
Improvised bombs
As well as meeting pockets of stiff resistance, the troops taking part in the offensive have been having to deal with large numbers of improvised bombs, the BBC's Frank Gardner in Kandahar says.
American forces have found a so-called "daisy chain" - a long bomb rigged up from mortar bombs, rocket-propelled grenades and a motorbike, our correspondent says.
And British engineers have deployed a device called a "python" - a length of explosives designed to set off mines and clear a safe path through them, he says.
Afghan army chief of staff Besmillah Khan told the AFP news agency the threat from improvised bombs meant gains were coming "slowly".
Meanwhile, to the north, British forces have discovered an insurgent cache of stolen Afghan army and police uniforms.
The find suggests the Taliban could have been planning attacks disguised as Afghan security personnel, our correspondent says.
Nato says discussions with the local population on how to bring lasting security to the area are continuing, our correspondent adds.
British and Afghan troops are reported to be advancing more swiftly in the nearby district of Nad Ali than are their US and Afghan counterparts in Marjah.
Missiles 'on target'
The commander of British forces in southern Afghanistan said on Tuesday a missile that struck a house outside Marjah on Sunday killing 12 people, including six children, had hit its intended target.
Maj Gen Nick Carter said the rocket had not malfunctioned and the US system responsible for firing it was back in use. Officials say three Taliban, as well as civilians, were in the house.
Initial Nato reports said the missile had landed about 300m (984ft) off its intended target. Gen Carter blamed these "conflicting" reports on "the fog of war".
He said that protecting the local population remained at the heart of the operation.
Speaking on Tuesday, Dawud Ahmadi - a spokesman for Helmand Governor Gulab Mangal - said the Afghan National Army and Nato forces were clearing areas around Marjah of mines.
Mr Ahmadi said that 1,240 families had been displaced and evacuated from Marjah - and all had received aid in the provincial capital, Lashkar Gah.
Operation Moshtarak, meaning "together" in the Dari language, is the biggest coalition attack since the Taliban fell in 2001.
Allied officials have reported only two coalition deaths so far - one American and one Briton killed on Saturday.
http://news.bbc.co.uk/2/hi/south_asia/8519507.stm
----
Islamophobia is behind these attacks on student rights
16 February 2010
Muslims at universities are being attacked as the government and media ramp up rhetoric that they are "hotbeds of extremism".
Students at the college where the failed "Christmas day bomber" studied have come under particular pressure.
Police requested the membership list for the Islamic Society (Isoc) at University College London.
The student union, instead of protecting students, handed over the details of all 800 Isoc members. The police are now planning to interview every one of them.
It was also revealed this month that Special Branch forces will be deployed on campus to monitor "extremist" Islamic societies.
This is aimed at demonising the Muslim community.
It is in this atmosphere that some students at Staffordshire University had the confidence to try and remove student union president Assed Baig.
A campaign by anti-fascists on campus succeeded in saving Assed, a prominent anti-Nazi and anti-war campaigner.
During the vote, swastikas and racist graffiti were scrawled on campus.
"Combating extremism" is really fuelling this racist tide.
http://www.socialistworker.co.uk/art.php?id=20310
----
Christians, Muslims answer questions about religion at Erie college
By DANA MASSING
February 17. 2010
Muslims and Christians came together Tuesday at Gannon University to answer questions about Islam and Christianity.
Each religion was represented by three students, who spoke before an audience of more than 30, and said the program was a way to learn about each other.
"We can come together and discuss religion without anger and animosity," Muslim panelist Ismail Husain said.
"It's really cool to learn more about faith," said Dylan Fabish, a member of the Christian panel.
After falafel, hummus, pita and pizza, the two panels took turns answering predetermined questions about the monotheistic religions that share some of the same prophets, rely on sacred texts believed to be the word of God and worship with prayer.
"What it boils down to is we learn we have more similarities than differences," said Cheryl Jong, adviser to the Muslim Student Association.
Muslim panelist Moaath al-Ghamdi explained that, in Islam, a prophet is someone chosen and favored by God to convey his message to people. Al-Ghamdi said prophets in Islam include Abraham, Moses and Jesus.
Muhammad was the last prophet of Islam and established the form of the religion still practiced by Muslims today, al-Ghamdi said.
Christian panelist Joseph Caulfield named prophets including Abraham, the father of the Hebrews, and Isaiah, Jeremiah and Ezekiel.
"As Christians, we believe Jesus Christ is the promised Messiah," Caulfield said.
Panelist Dylan Fabish explained the Christian concept of God that includes a trinity of God the father, Jesus Christ his son and the Holy Spirit.
"We believe God to be completely omnipotent, a loving God," Fabish said.
Panelist Sohaib Mihssen said that to Muslims, God is "the all-mighty creator and sustainer."
"Allah is the Arabic name of God," Mihssen said.
He said Muslims reject any attempt to make God human.
Panelist Luke Uebler said the primary Christian text is the Bible, which varies by Christian denomination.
"I believe that the Bible is the revealed word of God," he said.
Al-Ghamdi said Muslims rely on the Quran, which he said is the word of God as revealed to the Prophet Muhammad, and hadith, which he described as sayings of the prophets.
Panelist Ismail Husain said one of the most important forms of worship in Islam is the five daily prayers. They involve prostrating, bowing, sitting and standing while reciting from the Quran, he said.
"This is when we are closest to God," Husain said.
Other forms include fasting from sunrise to sunset during the holy month of Ramadan and making hajj, the pilgrimage to the holy city of Mecca.
Uebler explained that Christian worship practices vary by denomination but usually involved Sunday because it's "the day we believe Jesus rose from the dead."
He said there are many forms of daily prayer.
The panels also answered questions from the audience.
One man asked where people should look if they want to research the religions.
Panelists suggested the Bible and Quran or a visit to a Muslim or Christian religious community like a mosque or church.
When one woman started to ask Muslim students how they could believe Jesus was a prophet if he said things contrary to Muhammad, moderator Brent Heckman stepped in and said the purpose of the event wasn't to challenge beliefs, but to learn about the religions.
Heckman, a member of the Campus Ministry staff, said his office wanted to work with the Muslim Student Association on the event to create dialogue and mutual understanding.
The History Club, Student Democrats and International Student Office also sponsored the hourlong program.
http://www.goerie.com/apps/pbcs.dll/article?AID=/20100217/NEWS02/302169893/-1/news
----
Nashville's embrace of Muslims rises above recent hate crime
By Scott Ridgway
February 17, 2010
On behalf of the Metro Human Relations Commission, I would like to offer my sincerest condolences to the Muslim community of Nashville following the recent vandalism of Al-Farooq Mosque. This hate crime is not just a crime against an individual congregation, but a crime against our entire community. We deeply regret that you have been subjected to such an ignorant and offensive act, and we share your outrage.
This past weekend, I had the opportunity to attend the open house at the Islamic Center of Nashville. I was impressed by how many people from different faiths and all walks of life turned out for this event. I think the open house demonstrated that the people of Nashville are genuinely interested in the Muslim community's efforts toward education and openness.
I look forward to hearing about similar events and will work with the Center to promote them to the general public.
Mayor Karl Dean's meeting with Chief Ronal Serpas last week regarding the incident was a good first step, and they can both count on the commission's assistance in organizing the people and government of Nashville to make sure that these despicable acts will not be tolerated in our city.
Hate crimes and intolerance have no place in our community. As a community, we stand together to denounce this act. We will fight to eliminate all acts of hatred and prejudice. We will work tirelessly to ensure mutual understanding and respect for all. Together, we will create "One City for All People."
www.tennessean.com/article/20100217/OPINION03/2170355/1008/OPINION01/Nashville+s+embrace+of+Muslims+rises+above+recent+hate+crime
----
Big hopes, small rise seen for Indonesia sharia finance
By Neil Chatterjee and Liau Y-Sing
Feb 17, 2010
JAKARTA/KUALA LUMPUR (Reuters) - Investors betting on explosive growth in Indonesia's Islamic finance industry may have to settle for slower gains as an unfriendly regulatory framework holds the market back.
A huge Muslim population and vast untapped banking potential have fueled expectations that Southeast Asia's largest economy will be the next big growth market for the $1 trillion industry.
But unwelcoming laws and regulations and a lack of clear industry standards mean that Indonesia will struggle to match those growth expectations, keeping it in neighbouring Malaysia's shadows for years to come.
"If Indonesia wants Islamic finance to grow faster, they have to clear these tax and legal issues and come up with proper guidelines on Islamic securities," said Mohamad Safri Shahul Hamid, deputy CEO at Malaysia's MIDF Amanah Investment Bank, a leading sukuk arranger.
"The regulators need to play a more active role to open up the market, initiate discussions and encourage the introduction of new products, especially retail and sukuk."
Banks such as CIMB Islamic, the world's biggest sukuk arranger, and insurers like Prudential plan to expand in Indonesia, drawn by its strong growth prospects.
An upbeat economic outlook, high domestic interest rates and a firming currency have attracted foreign investors to Indonesian assets, but the country has seen few sukuk sales and government issuance have sometimes disappointed.
Data showed foreigners owned a record 117.5 trillion rupiah worth of federal debt early in February after boosting their holdings by $2.2 billion or nearly a fifth last year.
But on Tuesday, Jakarta rejected all 1.705 trillion rupiah worth of bids for the 1 trillion rupiah offer of sukuk after investors demanded higher yields due to a lack of trading liquidity in Islamic paper.
Islamic banking assets are expected to total 69 trillion rupiah ($7.37 billion) this year or just 2-3 percent of Indonesia's total banking assets, according to the central bank.
Practitioners say the removal of double taxation on Islamic financial transactions, effective in April, and a law to facilitate government sukuk issuance are crucial, but still insufficient to give the market a boost.
Only 17 sukuk sales took place in Indonesia from 2007-2009, compared with 105 in Malaysia, Thomson Reuters data showed.
A corporate equivalent of government sukuk regulations is also needed to encourage companies to sell sukuk, said MIDF's Safri, estimating that Indonesia has seen just over 20 rupiah corporate sukuk issues since 2004.
One Islamic banking lawyer in Jakarta said authorities have informally floated plans for a corporate sukuk law but no steps have been taken to enact such legislation.
To boost its sharia insurance industry, Indonesia should require the creation of full-fledged takaful companies, instead of allowing conventional insurers to operate takaful divisions, which have limited capital, said Ismail Mahbob, chief executive of Malaysian Islamic reinsurer MNRB Retakaful.
One particular model employed in Indonesia sees foreign retakaful firms receiving a net margin of fee of 3-4 percent, versus at least 10 percent in other markets, he said.
"The financial aspect of the model they're working on is not conducive for foreign retakaful operators to come in and give (underwriting) capacity. That will affect the growth of the market. Indirectly, they are approaching a capacity crunch."
CULTURAL FACTORS
Around 85 percent of Indonesia's population are Muslims. But compared to Malaysia, many Indonesians practise a more moderate form of Islam mixed with local beliefs, and may be less inclined to adhere to Islamic principles in finance, analysts said.
"In Indonesia not so many people understand about sharia," said Anton Gunawan, chief economist at Bank Danamon in Jakarta.
"Middle Eastern investors are looking at sukuk, but it seems to them that the sharia system in Indonesia is not pure Islamic, but a camouflage of normal banking practices."
And in a country of 230 million people, there are only around 80 million bank accounts, which analysts say reflects a lack of interest in formal banking.
http://in.reuters.com/article/businessNews/idINIndia-46231920100217?sp=true
----
Talks to re-live Sharm el-Sheikh?
Feb. 16 2010
New Delhi: When the India and Pakistan foreign secretaries meet here on February 25, the chances are they will re-live Sharm el-Sheikh (July 16, 2009) in its key dimensions.
Knowledgeable sources indicated on Tuesday that the Indian script before last Saturday's Pune blast was to have underlined questions about Islamabad's slow-footed response to the Mumbai terrorist assault launched from Pakistan, which had figured in passing at Sharm el-Sheikh.
With Pune now clouding the picture further, the Indian side will be enabled, said sources, to point to it if at least a preliminary or provisional report can be got ready in time. In the end, it comes down to speed sleuthing before the foreign secretaries take the field.
When at Sharm el-Sheikh Prime Minister Manmohan Singh had "reiterated the need to bring the perpetrators of Mumbai to justice", Pakistan Prime Minister Yousuf Raza Gilani had little hesitation assuring that his government will do "everything in its power". That did not amount to assuming responsibility. There is little reason why Pakistan cannot adopt a similar same stance on February 25.
On Tuesday Prime Minister Gilani has offered India an agreement on intelligence-sharing. Sources say the response will depend on the precise nature of the offer which could be elaborated at the foreign secretaries' meet if it does not happen earlier.
This subject, too, is a throwback to Sharm el-Sheikh where, according to the joint statement issued after the talks that got into trouble in the Indian Parliament, the two leaders agreed to share "real-time, credible and actionable intelligence on any future threats". Intelligence throwing light on past episodes — Mumbai or Pune — is clearly not what is meant.
The scheduled foreign secretary talks are in line with what has crystallised as the ideology of Sharm el-Sheikh. Non-compliance on past terrorism concerns and new episodes of terrorism are irrelevant to this scheme. The joint statement of July 16, 2009 had said, "Both Prime Ministers recognised that dialogue is the only way forward. Action on terrorism should not be linked to the composite dialogue process and these should not be bracketed."
The Manmohan-Musharraf Delhi joint statement of April 18, 2005 — in retrospect it can be seen as a building block for Sharm el-Sheikh — had also noted that terrorism would not be allowed to "impede the peace process". This was recalled in the New York joint statement of September 14 of the two leaders. Former national security adviser Brajesh Mishra made a reference to the Delhi joint statement in a TV observation on Monday.
Anand K. Sahay
http://www.asianage.com/home/top-story/2684-talks-to-re-live-sharm-el-sheikh.html
----
Obama steps up nuclear investment for climate fight
Feb 17, 2010
Washington : President Barack Obama announced $8.3 billion in loan guarantees on Tuesday to build the first US nuclear power plant in nearly three decades in a move designed to help advance climate legislation in Congress.
Obama, a Democrat who is trying to win Republican support for a bill to overhaul US energy practices, said the United States needed to increase its supply of nuclear power to meet its energy needs and fight climate change.
The government backing, in the form of a loan guarantee, will go to help Southern Co. build two reactors at a plant in Georgia state.
"Even though we've not broken ground on a ... new nuclear power plant in 30 years, nuclear energy remains our largest source of fuel that produces no carbon emissions," Obama said after touring a union education centre in Lanham, Maryland.
"To meet our growing energy needs and prevent the worst consequences of climate change, we'll need to increase our supply of nuclear power. It's that simple," he said.
Obama is pushing for a law that would cap greenhouse gas emissions from industry and expand the use of renewable fuel sources such as wind and solar.
The administration hopes that by reaching out to Republicans on the nuclear issue -- a top priority for key opposition lawmakers such as former presidential candidate John McCain -- support for the stalled bill will grow.
That hope may not come to fruition.
Republicans are eager to expand nuclear power and offshore drilling but are resistant to Obama's proposal for a greenhouse gas emissions trading system similar to the European Union's.
Obama said the climate bill, which contains a cap-and-trade system, would help create incentives for cleaner fuels such as nuclear. He said his administration would work to develop what he saw as common ground on the bill with Republicans.
"We're not going to achieve a big boost in nuclear capacity unless we also create a system of incentives to make clean energy profitable," Obama said.
"As long as producing carbon pollution carries no cost, traditional plants that use fossil fuels will be more cost-effective than plants that use nuclear fuel."
Obama's Democrats and opposition Republicans are at odds over several aspects of how to fight climate change.
US Senator Lisa Murkowski of Alaska is spearheading legislation that would prevent the Environmental Protection Agency having the power to regulate greenhouse gases -- an option Obama is preserving if Congress does not act.
As well some entities, such as Texas, the US Chamber of Commerce and the American Iron and Steel Institute, are initiating legal challenges to stop the EPA from acting unilaterally on greenhouse emissions.
Carol Browner, the president's top energy and climate advisor, said the White House would oppose any move to limit the EPA's regulatory authority.
"We will work against that. We do not want to see that passed," she told Reuters Insider in an interview.
Expanding nuclear energy is one area Obama and Republicans have embraced as a way to generate power and create jobs.
Atlanta-based Southern, a leading US producer of electricity, welcomed the nuclear announcement. Its shares rose 1.6 per cent. The administration said the project would generate 3,500 construction jobs and 800 permanent positions once the reactors go into operation.
"It's an important endorsement in the role nuclear power must play in diversifying our nation's energy mix and helping to curb greenhouse gas emissions," Southern Chief Executive David Ratcliffe said in a statement.
Supporters of nuclear power argue more reactors will be needed for the United States to tackle global warming effectively because nuclear is a much cleaner energy source than coal-fired power plants, which spew greenhouse gases.
Nuclear power is controversial, however, because of its radioactive waste, which is now stored on site at reactor locations around the country. Remembering the 1979 accident at the Three Mile Island nuclear power plant in Pennsylvania, many Americans still harbour concerns about nuclear power's safety.
Obama said a commission with Republican and Democratic leaders and nuclear experts was examining the waste issue.
The two reactors, which some experts estimate will cost $8.8 billion to build, could be in service in 2016 and 2017.
Southern has one of the largest fleets of coal-fired power plants in the nation and would suffer if Washington were to institute restrictions on carbon dioxide emissions.
US Energy Secretary Steven Chu said the department plans to offer loan guarantees to at least half a dozen projects but declined to lay out a timeframe for further announcements.
http://www.indianexpress.com/news/obama-steps-up-nuclear-investment-for-climate-fight/580844/
----
British duo held for snooping on flights
By Kumar Vikram
THE SPECTRE of 9/ 11 seemed to have come back to haunt intelligence agencies after two British nationals were detained near the IGI Airport for allegedly tracking flight movements.
Steve Martin ( 56) and Stephen Hampston ( in his 40s), were taken into custody on Monday from the Radisson hotel near the Indira Gandhi International Airport ( IGIA).
While the foreigners claimed that plane spotting was their hobby, the duo was allegedly found to have recorded conversation between pilots and the Air Traffic Control ( ATC) with their gadget.
Investigators said the gadget could capture the movement of any flight, including those of the military.
The police were informed by the staff of a five- star hotel in Mahipalpur after they became suspicious of the foreigners' activities. The duo had checked into the hotel four days back.
Police sources said the foreigners had called up the facility from London prior to their departure for India and had specifically asked for a room overlooking the airport.
A senior police officer said the foreigners had been confined to a room in the hotel and are being interrogated.
An email, believed to have been sent by Hampston, is also being probed while the British High Commission has been informed about the detention and interrogation.
By By Kumar Vikram in New Delhi Preliminary investigation has revealed that the sophisticated gadget could be attached to an antenna.
Thereafter, it can be used to monitor air traffic and capture the details of the aircraft.
Experts are taking a look at the equipment, which is believed to have the capacity to track an aircraft about 100 km away.
Investigators are trying to ascertain whether the British nationals are in touch with any other person in Delhi or other parts of the country.
The police are also looking into their call details.
" Their mobile phones and laptops are being examined as well as their emails. Their passport details are also being checked," said an officer.
The Delhi Police have been asked by the ministry of home affairs ( MHA) to find out whether the Britishers had violated the provisions of the Indian Telegraph Act and to arrest them if they had done so.
Delhi Police commissioner Y. S. Dadwal confirmed on Tuesday morning that the two foreigners were being interrogated. However, he refused to provide further details.
This is the second incident of a foreign national being detained in the city in the past one week.
An American citizen, Winston Marshall Carmichael, was arrested at the airport on February 9 after security personnel detected a knife in his hand baggage.
Though no terror link has been established so far, Carmichael has been confined to the Lampur detention facility in the city.
SNEAK PEEK
The SBS- 1 real- time virtual radar has revolutionised plane- spotting since its launch over a year ago.
Using the software
Identify Mode- S and track ADS- B equipped aircraft in real time
Easy to install, portable and lightweight
Connect to laptop/ desktop PC via USB
Powerful SBS- 1 Base station software included
Package includes all necessary components The SBS- 1 real- time virtual radar.
Mail Today, New Delhi.
----
Bangladesh to rename institutions named after its ' dictator' Rahman
Feb 17, 2010
BANGLADESH will rename all government institutions named after the illegal autocratic ruler, Ziaur Rahman.
On Monday, it rechristened the Dhaka international airport named after the former president, sparking strong protest from the opposition Bangladesh Nationalist Party ( BNP).